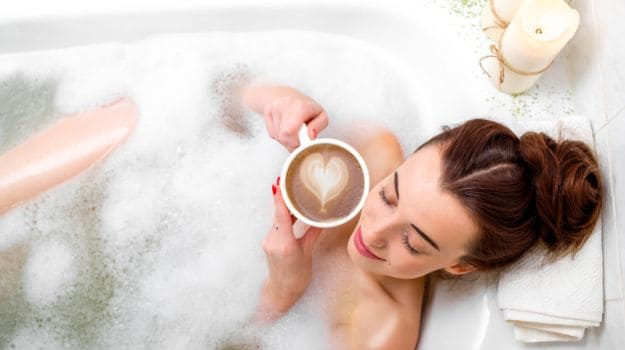 Most people go through magazines, newspapers, and the internet to find out how to look perfect on Valentine's Day. However, I think Valentine's Day is all about pampering the person you love from head to toe, and if you don't have a better half yet, then it should be a day to spoil yourself silly. And what better way to do it than create a magical body spa at home?Firstly and most importantly, gear yourself with all the basics you'll need – aroma candles, tea lights, bath towels, rose petals, strawberries, wine or a bubbly, chocolates, soft music and the magical recipes I am about to give you. So keep aside your phone and concentrate only on yourself.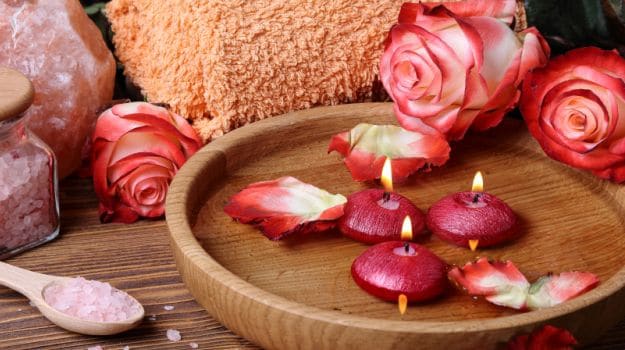 Start the pampering session with an amorous body massage using some aphrodisiac massage oils you can create on your own. Here's how: take 50ml almond oil, 50ml olive oil, 4 drops sandalwood oil, and 4 drops rose essential oil, and mix well. Use this to massage gently but firmly easing out every tension in the body.
I always feel that a body polish is an excellent way of detoxing the body and lending it a Greek God-like sheen. You can create a delicious sugar scrub with the following ingredients:
1 cup granulated white sugar
50 ml of rice bran oil
A handful of rose petals
3 drops each of the following-
Essential oil of jasmine
Essential oil of sandalwood
Essential oil of tuberose
Mix all the ingredients well together and store in a glass container. After a languorous body massage, you could use the exfoliating grains and gently scrub yourself. Not only will the gentle scrubbing in rotating movements increase blood circulation but the skin will become baby soft and glowing in no time.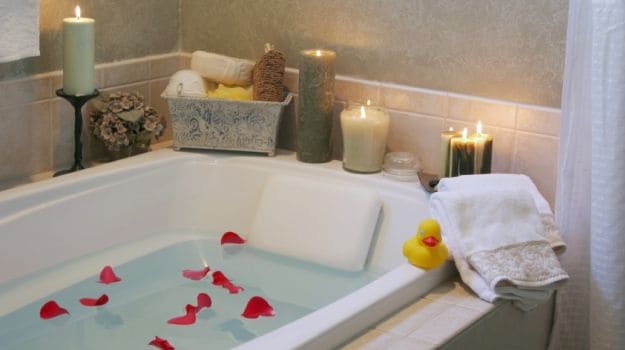 Once the scrubbing and kneading come to an end, what better way to end the session than soaking in a tub or jacuzzi filled with aromatic oils and flowers? Once again I think essential oils of juniper, rose, sandalwood and jasmine have an erotic fragrance that soothes and heightens the senses. Use mogra, marigold petals and roses to fill up the tub, and enjoy the experience sipping bubbly and munching on strawberries and chocolates.
About the author:
Suparna Trikha is a beauty expert based in New Delhi. She also teaches meditation through aromatherapy and organises corporate workshops for distressing. She has her own range of 40 beauty products and proposes to launch them very soon in the Indian market as well as abroad. With this crusade of moving back to nature, Suparna believes in making people healthier and more beautiful the natural way.
Disclaimer:
The opinions expressed within this article are the personal opinions of the author. NDTV is not responsible for the accuracy, completeness, suitability, or validity of any information on this article. All information is provided on an as-is basis. The information, facts or opinions appearing in the article do not reflect the views of NDTV and NDTV does not assume any responsibility or liability for the same.
Other Link(s):
8 Expert Skin Care tips for People in Their 30's
Holi 2016: 15 Expert Skin Care Tips for The Festival of Colours
How Much SPF Do You Need in Your Sunscreen?
5 Homemade Orange Peel Face Packs for Glowing Skin
10 Home Remedies for Glowing Skin
An Expert Guide to Gorgeous Summer Skin
5 Ways to Use Aloe Vera to Rejuvenate Your Skin and Hair
Expert Advice: How to Treat Winter Skin
How to Get Flawless Skin: Natural Ways to Treat Blackheads and Open Pores
16 Home Remedies for Pimples, Glowing Skin and Dryness
For the latest food news, health tips and recipes, like us on Facebook or follow us onTwitter.