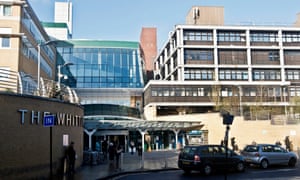 A cancer patient died after he was denied an urgently needed transfer to another hospital because no bed was available.
Michael Brennan was diagnosed with lung cancer at Whittington hospital, north London, and given a plan to be treated at another hospital if his condition deteriorated overnight.
But when the 80-year-old needed emergency surgery, Westmoreland Street hospital was unable to find him a bed and he died on 24 October last year.
A coroner has urged University College London hospitals NHS trust (UCLH), which runs Westmoreland Street, to take action to remedy the situation or else risk further deaths. The trust has apologised to Brennan's family.
Brennan, a smoker who had been diagnosed with chronic obstructive pulmonary disease, underwent a bronchoscopy to investigate why he had been coughing up blood since early 2016.
Doctors at Whittington hospital discovered the lung cancer and tried to stem the bleeding from the lesion, but referred him to UCLH amid concerns over his condition.
A clinician at UCLH advised them that, as an interventional bronchoscopy could not be carried out immediately, Brennan should be referred to heart surgeons at Westmoreland Street hospital if his condition deteriorated overnight.
When the team caring for him contacted the hospital that evening, they were told there were no beds available. He was eventually admitted to UCLH intensive therapy unit but died a few days later, coroner Dr Richard Brittain said.
In his report, which was sent to UCLH's chief executive, Marcel Levi, the assistant coroner for inner London north said: "In my opinion there is a risk that future deaths will occur unless action is taken.