View image on Twitter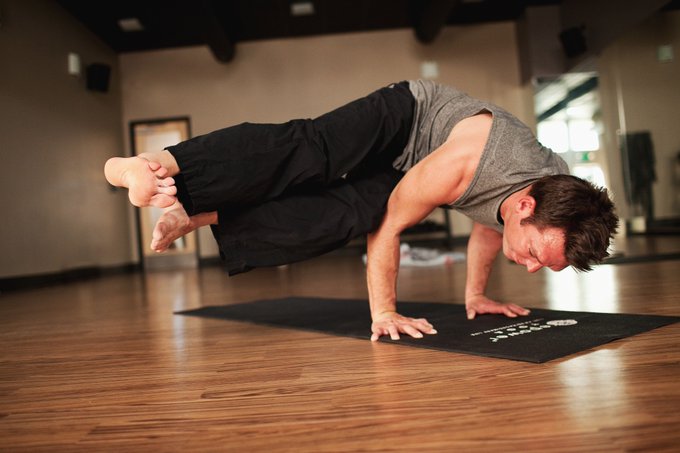 CorePower Yoga

✔@CorePowerYoga

We are grieving the loss of our founder Trevor Tice. We honor his legacy & celebrate all he brought into our world: http://ow.ly/piAy3076wV3 

7575 Retweets

138138 likes
Trevor Tice, the founder of a rapidly expanding company that has been dubbed "the Starbucks of yoga," was found dead inside his San Diego home Monday, and police are investigating "suspicious circumstances" surrounding his death.
San Diego police said they received a call about 12:15 p.m. Monday for a welfare check at a home in the city's Sunset Cliffs neighborhood. When officers arrived, they found the 48-year-old Tice dead inside.
"Due to suspicious circumstances related to the death of the male, San Diego Police Homicide Detectives were called to the scene and are currently investigating the incident," police said in a statement. Police did not give a cause of death and did not immediately return a phone call Wednesday morning.
Tice purchased the five-bedroom home with Pacific Ocean views for $3 million in January, the San Diego Union-Tribune reported.
Tice founded CorePower Yoga in 2002 with a single studio in downtown Denver. It is now "the largest privately held chain of yoga studios in the country" and operates more than 160 locations in nearly 100 cities in the United States, according to the company website.
[Sweat equity: What's behind the rise of intense boutique fitness programs?]
A CorePower Yoga bio said Tice, a former IT company owner, "experienced firsthand the transformational benefits of yoga" after a serious climbing accident left him with six permanent screws in his shattered ankle. No longer able to run, climb or do other high-impact physical activities, Tice tried yoga and was hooked.
"The first few classes kicked my a–, and I was initially deflated by it," Tice told Profile magazine in 2014. "But I hit an epiphany after the 10th class that included how beneficial it was and that someone needed to demystify yoga. Yoga was so much better than my preconceptions."
While traveling for his tech job, Tice began trying different yoga disciplines around the country, according to his bio. He was spurred to start CorePower Yoga as a way to make yoga both challenging and accessible, he said. His first studio offered "athletic, heated yoga" in a "spalike" environment.
Last year, Inc magazine dubbed CorePower Yoga "the Starbucks of yoga" in an article about the company's rapid expansion.
Yoga has become wildly popular in the United States — as well as a booming industry. A 2016 survey by Yoga Journal and the Yoga Alliance showed that more than 36 million people in the country practice yoga and that students spend $16 billion a year on yoga classes, gear and accessories.
[This yoga instructor's secret to more inclusive classes: Trap music]
Most CorePower Yoga studios resemble health clubs, and classes are an hour long, rather than 90 minutes long, as at many other yoga studios, the magazine noted.
The CorePower Yoga classes themselves are a blend of three types of yoga — Bikram, Ashtanga and Vinyasa — which Tice acknowledged had attracted criticism from yoga purists. "People are certainly entitled to their opinions," Tice told Profile. "But we think the more people practice yoga, in whatever form, the better. What matters is that it makes the world a better place."
On Facebook, the company said it was mourning Tice's death.
"CorePower Yoga is a manifestation of the best Trevor brought to the world: boundless energy, an electric smile, an immutable desire to improve," the statement read. "Trevor contributed more to the world than most dare to dream — and we will forever live in a more joyful, more peaceful, and fundamentally better place because Trevor Tice was part of it. Together, our community is grieving this tragic loss and honoring Trevor's tremendous legacy."
["source-ndtv"]