A long cross-border drug tunnel has been discovered running beneath Mexico towards the US. Starting at a house, the tunnel was well equipped for transiting loads of drugs which were allegedly bound for buyers in America.
The tunnel was found 23 feet (7 meters) underground, according to Mexican prosecutors. It measured nine feet (3 meters) wide and four feet (1.2 meters) tall, and was 1,689 feet (514 meters) long. It was equipped with ventilation and lighting, and had rails for pushing packages of drugs through the passageway.
It began at a house in Tijuana, Mexico, where prosecutors found more than "two metric tons of marijuana," AP reported. Prosecutors originally estimated that five tons of marijuana could be inside the house, but were unable to enter the premises without court permission.
Read more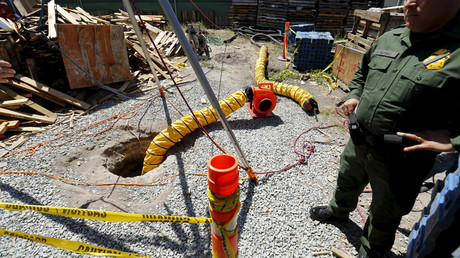 'Out in the open': Half-mile long drug tunnel connects US to Mexico
According to media reports, the tunnel entrance was concealed by an ice store called La Hielera del Aeropuerto. The store is located close to Tijuana's A.L. Rodriguez International Airport, just 990 feet (301 meters) from the US border.
The drug-smuggling tunnel was first found on Thursday, but the discovery was not confirmed by authorities until Monday.
The US Department of Homeland Security Immigration and Customs Enforcement (ICE) also confirmed the tunnel's existence, but would not elaborate on whether it had reached US soil. Some media reports claim the tunnel ended in San Diego.
"In order to ensure the integrity of the ongoing investigation, HSI San Diego is not providing additional details at this time," the departmentsaid in a statement quoted by the San Diego Union Tribune.
A source also told the newspaper that the tunnel had been in operation, and that an anonymous tip had guided state police and Mexican soldiers to it.
According to ICE, the tunnel is the 13th large-scale operational smuggling passage to be found along the California border since 2006. It is not yet clear who is responsible for the construction of the most recent tunnel, but the Sinaloa cartel – once led by the captured El Chapo – has been active on the ground in Tijuana since the 2000s.
The area where it was found was also the location of the longest tunnel of its kind, which was discovered on the Mexico-California border in April. That 2,400 foot (731 meter) tunnel linked Tijuana to Southern California and was also equipped with a rail system, ventilation, lights, and a large elevator.
READ MORE: High crimes: Meth-carrying drone crashes near US-Mexican border
Meanwhile, Mexican federal police have also announced the discovery over four pounds of methamphetamine in a wheel of cheese at a package-delivery facility in Mexico City. An x-ray inspection revealed the cheese had a secret package covered in a sheet of lead and carbon paper.
Police believe the carbon paper was aimed at reducing the odor, while the lead would impede x-rays.