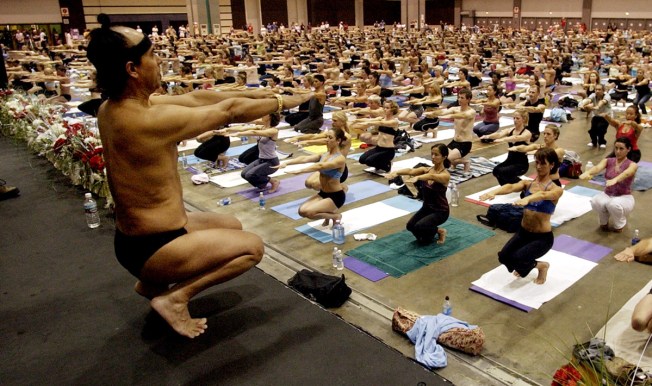 Associated Press
In this Sept. 27, 2003, file photo, Bikram Choudhury, front, founder of the Yoga College of India, leads a class at the Yoga Expo 2003 at the Los Angeles Convention Center.
A judge awarded nearly $1.1 million in attorneys' fees Friday to a woman who previously won more than $7 million from a jury that found she was harassed and punished by the founder of Bikram Yoga for speaking out against harassment of women in the workplace.
Los Angeles Superior Court Judge Mark Mooney said the amount was reasonable based on the amount of hours Minakshi Jafa-Bodden's lawyers invested in her lawsuit against Bikram Choudhury from before trial until up until today's hearing.
Jafa-Bodden worked as an attorney for Choudhury's West Los Angeles-based Yoga College of India.
Jafa-Bodden's lawyers had recommended $2.9 million, but Choudhury's attorney, Mark Share, said the award should have been no higher than about $350,000.
In January, the jury awarded Jafa-Bodden $924,554 in compensatory damages and $6.47 million in punitive damages, finding that she was subjected to harassment, discrimination and retaliation by the 70-year-old Choudhury.
Jafa-Bodden sued Choudhury and the Yoga College of India in June 2013.
"I looked through the bills myself and this was a heavily litigated case," Mooney said.
However, the judge said he agreed with Share that a "multiplier" should not be applied that would have given Jafa-Bodden an amount closer to what she sought.
Mooney said those types of fee enhancements are normally given in cases that are difficult to find lawyers to take. In contrast, Jafa-Bodden's employment suit was one of many like it on the courthouse docket, except for the fact that Choudhury was a successful businessman and had some name recognition.
"There is no shortage of attorneys in employment cases," Mooney said.
Share told Mooney he doubted Jafa-Bodden's lawyers put as much time into the case as they claimed. He also said their billing was vague.
"We need some detail, that's what we're lacking here," Share said.
But attorney Mark Quigley, on behalf of Jafa-Bodden, said he toiled during weekends on the case and that he and those lawyers working with him had to take extraordinary measures just to get the case to trial.
Quigley said he visited the Nixon Presidential Library & Museum to research whether Choudhury was telling the truth when he testified he met with the former president while Nixon was suffering from advanced thrombophlebitis, a swelling of veins due to blood clots, in his left leg.
Quigley said his hourly rates were reasonable and that he could have charged more.
"I did not bill for a lot of work I did on this case," he said.
Quigley also said taking cases on a contingency basis always carries some risk. He alleged that Choudhury has fled the country and hidden his assets.
"We will chase him to the ends of the Earth," Quigley said.
Choudhury's lawyers said Jafa-Bodden lost her job in 2013 because she did not tell her boss she wasn't licensed to practice law in California. They also maintained she worked for a law firm and that neither Choudhury nor the college employed her, an argument they make in their motion for a new trial scheduled to be heard Wednesday.
Jafa-Bodden testified that Choudhury gave her office space, supplies and yoga college business cards.
"The verdict is … irredeemably inconsistent with logic and with the established facts," Choudhury's lawyers state in their court papers. "The jury did not find, for example, that Mr. Choudhury ever personally employed Ms. Jafa-Bodden, yet the resulting judgment contradictorily finds him personally liable for payment of the plaintiff's wages."
Defense attorneys also say in their court papers that Jafa-Bodden admits she did not suffer any physical injuries, and did not sustain any emotional problems sufficient to require professional care.
Choudhury teaches the "hot yoga" technique in which sessions are conducted in temperatures that often are above 100 degrees.
["source-Artofliving"]