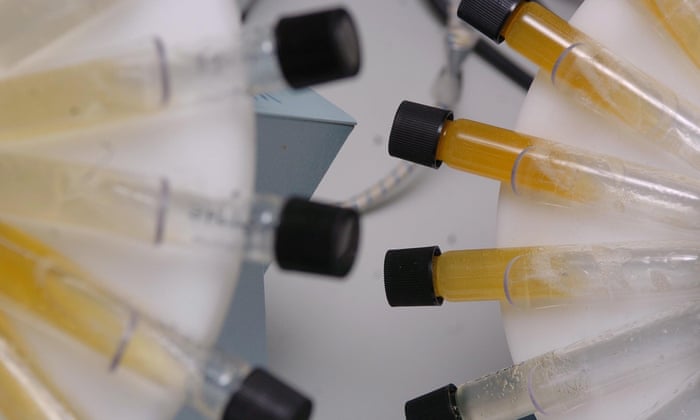 As part of a government trial, new welfare recipients who return a positive drug test will have 80% of their benefit payment put on to a Basics Card. Photograph: Johnny Green/PA
The Turnbull government has named Mandurah in Western Australia as the third site where drug testing will be trialled for welfare recipients.
The human services minister, Alan Tudge, said Mandurah, like those sites already announced in western Sydney and Logan, Queensland, has a high incidence of drug use and quite a lot of drug and alcohol services already in existence.
"Thirdly, it has a form of cashless income management in place as well. So that means we can leverage that existing infrastructure," Tudge told ABC television on Sunday.
The social services minister, Christian Porter, has previously said the trial is focused on helping jobseekers overcome drug problems and secure work.
Tudge said drug testing could well be expanded to university students and even politicians if the government's trials proved successful.
The minister told Sky News the government wanted to see people off drugs and into the workplaces, dismissing criticism from Labor and medical professionals.
"This is a trial in the very sense of the word where we want to try something new, evaluate it and, if it works, we might roll it out further," he said.
Tudge said he didn't accept the idea that people will be psychologically damaged if they were forced into testing given that anyone could be drug tested at any time when they were out driving their car.
He said people on unemployment benefit with a drug problem were effectively excluding themselves from so many jobs where being drug-free is a requirement – such as the construction, transportation, aviation and mining industries, as well as the defence forces and emergency services.
"We want people to be drug-free so they have got the best opportunity in the world to take those jobs just as any other job," he said.
Up to 5,000 new recipients of Newstart Allowance and Youth Allowance will be drug tested during the two-year trial.
As part of the trial, those who return a positive test will have 80% of their benefit payment put on to a Basics Card which limits the amount of money people can withdraw as cash, with remaining funds reserved for essentials such as rent, childcare, food and household needs.
After a second positive test, the person will have to see a doctor at the government's expense and undergo any treatment proposed in order to continue receiving benefits.
The Logan city mayor, Luke Smith, reacted angrily when his region was selected, saying he feared the trial would stigmatise the city.
["Source-theguardian"]