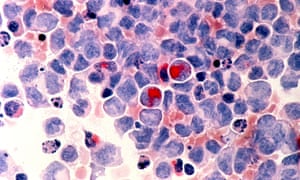 An experimental new treatment for ovarian cancer led to a dramatic shrinking of tumors in a small, early-phase study.
Researchers were testing a drug, known as ONX-0801, for safety, but found that tumors in half of the 15 women studied shrank during the trial, a response they called, "highly unusual" and "very promising".
The drug mimics folic acid to attack ovarian cancer cells. It is part of a brand new class of drugs discovered at the Institute of Cancer Research in London and tested with the Royal Marsden NHS Foundation Trust. The results were presented at the world's largest cancer conference, the American Society of Clinical Oncologists, in Chicago.
Researchers believe the drug could hold promise for women whose ovarian cancer has stopped responding to traditional treatment. Additionally, because the drug specifically targeted cancer cells, it did not show the side effects typically associated with chemotherapy such as infections, diarrhoea, nerve damage and hair loss.
"The results we have seen in this trial are very promising," said Dr Udai Banerji, the leader of the study and deputy director of the drug development unit at the Institute of Cancer Research. "It is rare to see such clear evidence of reproducible responses in these early stages of drug development."
Banerji said the drug could add "upward of six months to lives of patients with minimal side effects".
"However," he cautioned, "These trials need to be done. When eventually used early in the disease, the impact on survival may be better, we don't know that yet."
Other experts also cautioned against reading into the results. "Shrinkage of tumors is important, but as the authors point out, that is not the same as producing the hoped-for extension of survival for women with ovarian cancer," said professor Michel Coleman, professor of epidemiology and vital statistics at the London School of Hygiene & Tropical Medicine.
"The excitement of the investigators is completely understandable, but one should be cautious about interpreting this result as a breakthrough for ovarian cancer patients until data on longer-term outcomes are available," he said.
The five-year survival rate for all ovarian cancers is 45%, according to the American Cancer Society. Between 2008 and 2010 in England, 36% of the more than 14,000 women diagnosed with ovarian cancer died in the first year. More than 1,600 died in the first month, according to Pubic Health England.