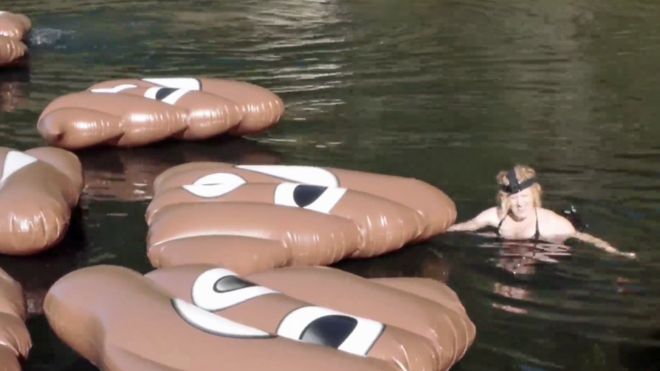 A campaign group in New Zealand has turned to the infamous staple of social media conversations – the poo emoji – to make its point to the government about its handling of the environment.
Protesters from the Action Station group launched 50 inflatable poo emojis onto Lake Ohakuri on the Waikato River near to where the ruling National Party was holding a conference, to highlight new standards which it says would mean more contaminants in freshwater, the New Zealand Herald reports.
The group claims that the proposed new standards would not improve water quality, and would instead result in "more poo and wee in the water" – hence the emoji-based protest. "We decided to have some fun with the emojis to illustrate our point, but this is not a light hearted issue," campaigner Laura O'Connell-Rapira told the paper.
The proposed new standards, announced in February, are part of what environment minister Nick Smith says is an ambitious plan to make 90% of New Zealand's rivers swimmable by 2040, the Stuff.co.nz website says.
However, environmentalists say the government has "shifted the goalposts" by basing water cleanliness on the amount of E.coli contamination, meaning that a "clean" river could still contain dangerous quantities of faecal matter containing other harmful bacteria.
It's not the first time that the New Zealand water standards policy has made the news. In March, one campaigner publicly challenged environment minister Nick Smith to a boxing match next to a polluted water hole which is now classed as suitable for swimming under the new measures. The loser had to "frolic in the water hole for no less than five minutes", the challenge, published in a newspaper advert, said.
The Action Station campaigners are now selling their inflatables, but say they'll be back with another similar stunt in Wellington Harbour.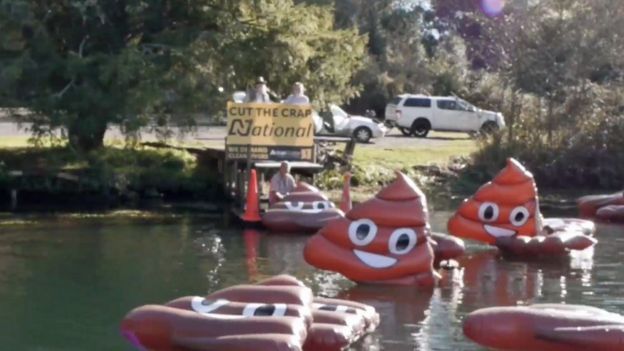 Reporting by Alistair Coleman
Next story: £1,000 reward for missing Hong Kong owl chicks
Use #NewsfromElsewhere to stay up-to-date with our reports via Twitter.
["Source-bbc"]