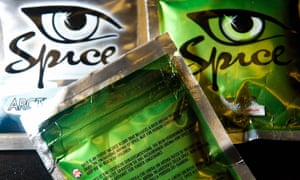 Sixteen prison officers who work in a jail where 5.6kg of spice was recovered from prisoners' cells are off sick after inadvertently inhaling the psychoactive drug.
The Prison Officers' Association (POA) said the officers from Holme House prison in County Durham were off work having breathed in smoke blown from prisoners' cells.
The union revealed that the spice – worth £200,000 and thought to be the biggest ever haul of the drug in a British prison – has been recovered from cells at the prison.
Holme House, which has capacity for 1,210 prisoners, has dealt with as many as 22 spice-related incidents in a single day since January. Last Wednesday alone eight staff went off sick because of the drug, with a further 12 succumbing the following day. They were "dropping like flies", according to a POA source. Some have since returned to work.
The symptoms suffered by the affected officers have included racing heartbeats, high blood pressure, seizures, palpitations, vomiting, lack of bowel control, anxiety, hallucinations, depression and aggression.
Prisoners inhale the psychoactive drug by smoking it or vaporising it in a boiling kettle.
The POA has issued an alert over safety after the drug was discovered in cappuccino, Oats-so-Simple and Weetabix packets during two cell searches at the jail, which the government awarded £9m last December purely to crack down on spice users.
Cleveland police have launched an investigation into how containers with 1.6kg and 4kg of the substance were smuggled into the category B jail.
The record drugs find at the jail, which mainly serves communities of the Tees Valley, south-west Durham, east Durham and North Yorkshire, has been estimated to be worth up to £200,000.
Stockton North MP Alex Cunningham said he would press the Home Office to launch an inquiry into the discovery at the jail.
He said: "It is stunning that so much can get through the prison security system. We were promised Holme House would become a drug-free prison, but we are getting a worsening situation.
"The officers are clearly suffering. I've heard that it's easier to get hold of drugs in prison than it is toothpaste."
Holme House POA branch chairman Andy Baxter said some staff had been sent off duty after being affected by spice more than three times, which was aggravating the effects of a reduced number of officers at the jail.
He said: "The ongoing issue is the unknown effects on the long-term health of staff and the short-term protections that can be brought in to protect staff and other prisoners.
"Our prison officers are witnessing first-hand the long-term effects these drugs are having on people in their care, it is clear to us that long-term users are suffering reductions in cognitive ability and potential long-term psychosis and potential brain damage."
Peter Clarke, chief inspector of prisons in England and Wales, stated in his annual report last week that attempts at reforming prisoners would be in vain unless violence and drugs behind bars were addressed.
The justice minister, Philip Lee, said the government recognised "deficiencies" in the system, but it had been unprepared for the impact of widespread drug use, including the synthetic cannabis substitute spice.
A Prison Service spokesman said: "We are determined to stem the flow of drugs into our prisons, and are taking unprecedented action to tackle these issues.
"This includes an innovative new drug testing programme, over 300 dogs to detect psychoactive substances, and making it a criminal offence to possess psychoactive substances in prison."