TORONTO – Display technology shouldn't be left to engineers.
That's what's driving a Montreal-based startup to develop eye-friendly technology for smartphones, automotive dashboards and virtual reality headsets. The genesis of IRYStec goes back to 2013, when Tara Akhavan, a second-year PhD student attending the Vienna University of Technology, was presenting at a conference around high dynamic range (HDR), where her work caught the eye who would be the company's first investor, Montreal-based TandemLaunch.
Its CEO had previously sold an HDR company 10 years ago, and initial discussions led to the idea that what is missing in display technology is human perception. "It's just in the last 10 years that we have been intimate with displays," said Akhavan, now cofounder and chief technology officer. "We're just figuring out the side effects."
Research suggests Americans spend as much as seven hours a day in front of a screen. Over the last 20 years, said Akhavan, physiologists have developed a better understanding of how the human visual system works, as well as the negative side effects that result when display use exceeds four hours a day. However, she said, device manufacturers have traditionally relied solely on image processing and hardware engineers to design their displays.
IRYStec Software's Perceptual Display Platform (PDP) addresses the current shortcoming when it comes to developing displays for devices such as smartphones and automobile dashboard clusters. The standard approach to measuring a display's performance is in a dark or dim room, but the display's performance does not often account for the fact that it will be viewed in multiple environments: a dark room, normal ambient illumination and in bright light; so as ambient illumination goes up, the perceivable black level rises, darker tones are harder to see, colors become desaturated and overall contrast decreases.
TandemLaunch enticed Akhavan to go to Montreal and build a small team to develop this technology to make digital displays healthier. From there, intellectual property was developed, and she brought on Afsoon Soudi as cofounder and VP of research and development. "I had a software background, and I wanted complimentary co-founder on hardware side." Toward the incubation process, IRYStec brought on Simon Morris as the tenth hire, CEO, and final co-founder to handle the business aspects. "We knew we wanted a more senior person, and I wanted to focus on technology strategy."
IRYStec was part of the incubator until April 2016, and closed its first round of funding in July 2016. The company now employs 24 people, and closed its first official deal with an automotive customer at the end of last year. "We recruited Simon because of automotive," said Akhavan. "We knew mobile would slower and harder to get into."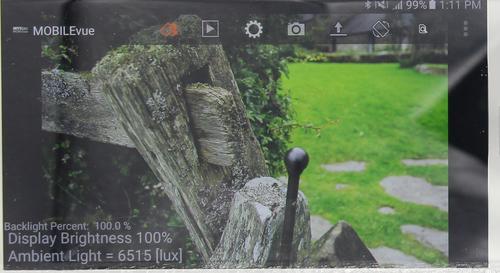 The company has united the expertise of physiologists with the know-how of image processing and hardware engineers; PDP uses processing algorithms to replicate how the human eye sees, and thereby addresses the adverse side effects of screen exposure by reducing eye strain and fatigue to make displays more eye friendly. IRYStec's first product, MOBILEvue, comprises perceptual library modules that increase the perceived contrast in a sunny environment and consider the viewer's sensitivity to color and contrast changes in different ambient environments and compensates for the color and contrast loss on a dimmed display in a dark environment.  MOBILEvue uses the ambient brightness information provided by most device ambient sensors and associated auto-brightness applications.
Akhavan said these features are "nice to have" for smartphones, but for automotive, the value proposition is around safety. Display infotainment systems that deliver connected car services such as navigation, music, phone calls and Internet at the touch of a screen are more popular and commonplace, but it's also a trend that increases driver safety concerns for automotive OEMs because looking at a display while driving is a distraction.
What contributes to the distraction is the time it takes the driver to focus on the material displayed on screen, dubbed "dwell time." IRYStec's platform improves the readability of automotive displays in bright and dark driving conditions, so the dwell time can be reduced by 60-70%.
Morris, who came aboard at the beginning of 2016, has focused on productizing the technology. While smartphones are the obvious initial application, the automotive sector has gone from a potential market to one that is approaching IRYStec as they continue to replace instrumentation clusters with digital displays. He said nighttime viewing is being supported through high brightness settings, which are in fact too high and can cause health problems. "It accumulates over time in terms of the impact ton your eye," he said.
Just as automotive companies are coming to IRYStec on their own, so are virtual reality companies as users of VR headsets are encountering motion sickness with about 30 minutes of use. "With our technology, it could be an hour," said Morris, as the company's technology can reduce brightness and maintain readability.
Eye strain is a factor with VR, said Akhavan, as well as fatigue and sweaty eyes thanks to the heat from headset backlights. IRYStec can address those issues with the same technology it applies to automotive and smartphone displays. "We don't have to reinvent the wheel."
—Gary Hilson is a general contributing editor with a focus on memory and flash technologies for EE Times.
Related Articles:
Hold Your iPhone — Pizza Style
Object-Detection Becomes Wearable
Automotive Power Semi Market Keeps Soaring
What Autonomous Driving Implies in 2017
Growth Curve Accelerating for Flexible Displays
["source-smallbiztrends"]