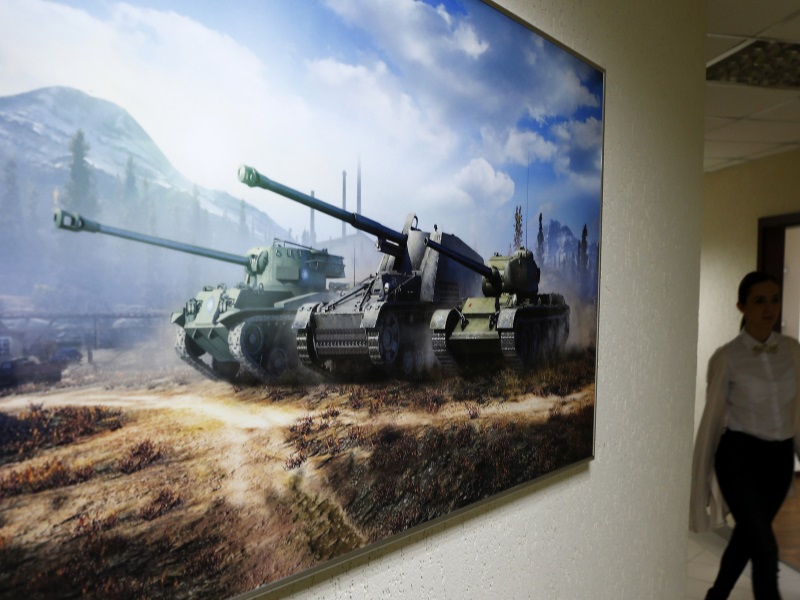 World of Tanks, one of the five most popular PC video games in Europe and the United States with 100 million players joining virtual battles in World War II-era tanks, started in a kitchen in the capital of Belarus.
In a country better known for its Soviet-era collectivized farming and run by President Alexander Lukashenko, seen by some as "Europe's last dictator", the software industry is thriving thanks to highly-educated and low-cost engineers.
Despite its international success, World of Tanks developer Wargaming has kept a major operation at the high-tech park in Minsk, along with a dozens other companies including US-based EPAM Systems, founded by two Belarusians in 1993. Belarusian software engineers are also behind Japanese-controlled Viber messenger and the MSQRD selfie app bought by Facebook earlier this month.
The sector has flourished despite a wider economic slump, raising hopes that it could set an example for an overhaul of the mostly state-run economy, and attracting foreign workers, expatriate Belarusians and locals to jobs that pay about five times the average wage.
World of Tanks software developer Andrei Safronov's hobby is drawing 3D models of tanks.
"I was noticed, invited, and now I work here," the Russian said, showing off tank models on his computer screen in a shining 16-storey building in the industrial park where workers relax playing table football or video games on big screens.
World of Tanks, owned by Cyprus-based Wargaming, is the fifth most popular PC gaming title behind League of Legends, Counter-Strike, World of Warcraft, all produced by US publishers, plus Minecraft, the Swedish game now owned by Microsoft Corp.
Companies at capital's high-tech zone contribute 1.5 percent of Belarus's GDP, employ 24,000 people and last year had exports worth $700 million (roughly Rs. 4,640 crores). By contrast, the state-run Gomselmash, employing 14,000, sold just one combine-harvester in the month of December, contributing to 2015 exports of just $90 million (roughly Rs. 596 crores).
The economy shrank 4 percent last year, hit by a recession and international sanctions in neighbour Russia but the software park grew 20 percent and is expected to do the same in 2016.
Proud president
Such growth has been helped by the low levels of government interference, raising hopes that it could be used as a model for transforming the state-run economy.
Lukashenko came to power in 1994 after the collapse of the Soviet Union and his country until February was under EU sanctions for his human rights record that included concerns about freedom of speech.
Some opposition media outlets broadcast from nearby countries to evade censorship and the state telecom monopoly is the exclusive provider of Internet connections to the outside world. Reporters Without Borders ranked Belarus 157th out of 180 countries in the 2015 press freedom Index.
But Lukashenko, who once called the internet "garbage", has left the technology sector alone and now seems proud of his country's IT prowess.
Commenting on an episode when Belarusian hackers stole hundreds of thousands of dollars, he told parliament: "Of course it is a disgrace. But sometimes you look and you are proud that our people know how to do this."
Aleksander Klaskovskii, a Belarusian political analyst said Lukashenko is not scared that access to sophisticated technology and the Internet will bring political ideas that could undermine his rule.
"The Belarusian authorities are not so primitive. They are not Internet-phobic. Lukashenko is a rational person," he said.
"Revolutions do not occur due to the fact that someone writes something on the Internet."
The industry has succeeded because it has been independent, he said, showing the government what could be done in other moribund sectors if it makes structural reforms to allow more freedom.
Cheap and educated
Initially, Belarusian software specialists won business from Western companies by offering cut-price programming services for businesses and websites. Now they are making headway developing name-brand products known around the world.
Set up ten years ago, the park was the brainchild of former Belarusian ambassador to Washington and Lukashenko supporter Valery Tsepkalo who met successful Belarusian engineers in the United States and wanted them to be able to work at home.
The park does not get money from the state but benefits from tax breaks and the ability to tap an educated workforce.
Belarus has a strong tradition of science and engineering education, as do many other former Soviet states – Tetris, the popular cube game was invented by a Soviet programmer working at Moscow's Academy of Sciences in 1984. Belarus's 54 universities produce 4,000 software engineers every year.
"The most important factor (for being in Belarus) are strong schools of training for professional engineers," said Jaroslav Tomilchik, EPAM's human resources director in Minsk.
The low cost of living and the country's position outside the European Union also helps keeps wage costs down compared to nearby EU members.
But success may bring pay rises, particularly as engineers move away from contracts and develop their own companies.
EPAM, one of the first residents of the park, has enjoyed years of consistent 20 percent plus growth and seen its stock jump fivefold since floating on the New York Stock Exchange in 2012. Nearly one-third of its global technical staff remain based in Belarus.
EPAM has benefited from technology outsourcing by European companies, outpacing Indian and US rivals based on its proximity to Western Europe and its focus on new product development for customers including investment bank UBS, Liberty Media and cosmetics brand Sephora.
Now, a second generation of technologists is taking shape, many of whom started with EPAM, but now are looking to build their own products and apps for start-ups.
"Look at these people…They can't remember the Soviet Union," said Tsepkalo. "This is new technology, created from scratch."
Some Belarusians like Elena Shkarubo, who studied in London and worked in Moscow, are coming home. She returned to start the online platform MeetnGreetMe in March which allows people travelling to another country to find a local host.
"I wanted to do business in Belarus…I'm not going to change my nationality," she said.
© Thomson Reuters 2016
Download the Gadgets 360 app for Android and iOS to stay up to date with the latest tech news, product reviews, and exclusive deals on the popular mobiles.