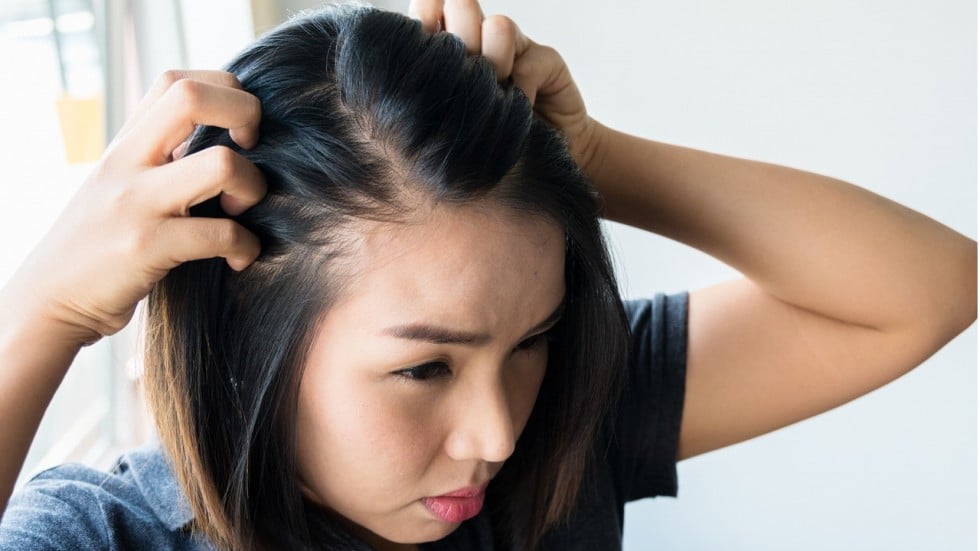 It may sound incredibly dramatic, but for a lot of women, dealing with hair loss can be devastating. In many cases, even just getting your hair to grow beyond a certain point is beyond frustrating. To help deal with the issue, we turned to the experts to learn how to get things growing in the hair department.
Spot the Signs
It's easy to stress over seeing a few strands on the shower floor, but remember that hair is supposed to shed. It's part of the growth process. And truth be told, worrying about it could actually exacerbate the problem. Which leads to the idea that, while hair shedding is natural, a handful of factors come into play that signal actual hair loss. New York City-based board-certified dermatologist and dermatologic surgeon Joyce Davis says that in women, an early sign of hair loss is a widening of the hair part. Sunburns on your scalp can also mean that your hair is thinning. Also pay attention if a hair clip suddenly starts slipping out of your hair because your hair isn't as thick as it used to be.
If you or your hairdresser find one (or several) bald spots on your scalp, that should raise concern. "This condition is an autoimmune disease called alopecia areata and, thankfully, the condition can be treated with a series of cortisone shots," says Davis.
Count Your Strands
Although you probably don't want to spend your days counting hairs that have fallen to the bathroom floor, it's important to take a closer look at your hair patterns to spot more serious hair loss beyond regular hair turnover. Michelle Blaisure, certified trichologist and Bosley Professional Strength Product and Technical Specialist, says that if you regularly run your fingers through your hair and have more than six or seven strands that come out each time, you should keep an eye on just how much hair falls out with every comb-through."If you are losing more than about 100 hairs a day on average, over time you could eventually start noticing your hair is thinner as it is not being replaced at the same rate as you are losing it," says Blaisure.
Interestingly, Blaisure adds that some people notice more hair loss during cooler months like October and November. The temperature change could be the culprit, but Davis says that when there is less humidity in the air, hair can feel flatter and seem thinner, but it's not actually falling out. So, since seasonal shifts are a good time to monitor your mane, be mindful of the shedding and not necessarily how full your hair feels on your head. In doing so, you may find you want to revamp your hair care regimen to include products that can ward off thinning during those times.
Brush up on the Causes
While most hair products are safe to use, build-up on the scalp can throw your scalp environment out of whack — leading to clogged hair follicles, inflammation, and potentially hair loss. Chemical processes, like relaxers and even hair dye, can also damage the area and cause breakage, if not used properly. Then there's traction alopecia, which results from prolonged wear of tight braids, weaves, and wigs.
Another cause of thinning is associated with childbirth. Blaisure says that a lot of women experience thinning postpartum, but that strands should stabilize somewhere around the three-month mark.
Last but not least, there are autoimmune diseases, like alopecia areata, that also play a role in thinning and hair loss.
Stop Stressing and Eat Right
Although it varies from person to person, generally speaking, both Davis and Blaisure say that stress- and diet-related hair thinning is the easiest to treat — as they can self-correct when nutrients and stress levels are balanced out. "I frequently treat hair loss from iron deficiency, due to heavy menses and/or the trend to 'eat healthy.' This usually means avoiding meat, which is an excellent source of protein," says Davis. Hair itself is a protein, so when the supply of protein in your diet is lacking, you may start to notice the effects in your hair. Since vitamins are required for protein production, Davis recommends taking a daily multivitamin with iron. Not only will it help hair production, but vitamin D and B 12 will too.
Treat in a Timely Manner
Not addressing the issue when you spot the first signs that something is off can sometimes lead to the follicle being damaged, potentially halting hair's ability to regrow. And while many people may be looking for more natural solutions like castor oil to help boost hair growth, Blaisure says that you need a good delivery system, and many natural options just won't penetrate the scalp enough to actually treat the issues beneath the surface.
If the root of your shedding is genetically driven, the two best options are the medication Minoxidil or red wavelength lasers. Minoxidil helps increase blood flow and nutrients to the hair follicle to slow down loss and regrow hair for many with genetic thinning, while lasers help stimulate hair regrowth. Your derm can determine which is the better of the two, based on your level of loss.
If you prefer a more natural solution, Davis suggests PRP (Platelet Rich Plasma) treatments derived from the platelets in your own blood as an effective therapy. The growth factors in your platelets are separated and injected back into your scalp where hair is thinning. "This maximally stimulates hair follicles to grow," notes Davis. You'll likely need a series of four monthly treatments and possibly a few touch-ups.
While you should definitely see your dermatologist for a proper and thorough diagnosis, keep reading for several at-home options that can help put an end to your growing pains.
1. Keranique Hair Regrowth Treatment ($39): With two percent Minoxidil, you can consider this a potent dose of OTC medicine to help stimulate the hair follicle and regrow lost strands.
2. Bosley Healthy Hair Vitality Supplements for Women ($35): Formulated with a blend of vitamins and horsetail extract, these tablets help keep strands and scalp in optimal health.
3. FAST Shampoo & Conditioner Combo ($34): This sulfate-free shampoo and botanical-infused conditioner work together to promote a clean, clear scalp that sets the stage for healthy hair growth.
4. ColorProof BioRepair-8 Stem Cell Scalp Serum ($38): Where alpha hydroxy acids work to slough away the buildup of dead skin cells on the scalp, biotin and copper peptides encourage stronger strands during the growing stage.
5. Ducray Creastim Anti-Hair Loss Lotion ($89 for a two-month supply): Biotin and hydrogenated castor oil (the particles are smaller so it absorbs into the scalp) are the standouts that'll reboot thinning hair.
Have you tried any of these products? Tell us on Twitter!
Brit + Co may at times use affiliate links to promote products sold by others, but always offers genuine editorial recommendations.
["Source-brit"]