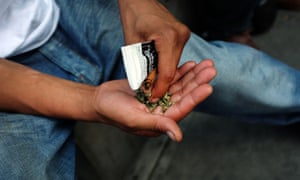 "I call it the suicide drug: it will send you on a long, long buzz – four to five hits and you can't move." In a hostel in central London, James Alexander, 40, recalls trying "spice" for the first time when he was in prison.
"You get an instant buzz, you go from one to 100 straight away," he said, shaking his head. "You get a different buzz from weed – but I don't like it; it's not a drug you want to be messing with. I had some the other night and the moment the buzz started I said to my mate, 'Tear it up, put it in the bin.'"
Cheaper than cannabis, spice – a legal high outlawed last May – has long been the drug of choice in Britain's jails, where it has been linked to an increase in violence among inmates. But a new target market across the country is opening up now that it has been banned.
"The rough sleeping population is being specifically targeted in Westminster by dealers," said councillor Nickie Aiken, cabinet member for public protection at Westminster city council.
"We've become aware of it really over the last couple of months. We're working on the hypothesis that spice has hit the streets since it became illegal to sell it through the high street specialist 'head shops'."
Almost a quarter – 22% – of the 430 homeless people staying in Westminster's hostels in the first four months of this year were using the drug, a number that would have been close to zero only two years ago, according to Aiken. Since it was outlawed there is anecdotal evidence that spice has become more popular among the homeless in several of Britain's cities.
"It is terrifying, what I am seeing," Aiken said. "I was in Soho last week. At 3.30 in the afternoon I saw a homeless man come up to a drug dealer with pence in his hand and hand it over. You can buy a spliff for 50p and that one spliff can have serious consequences."
Earlier this month, Nick, a homeless man, died in London after taking the drug. Will, who is 64, and has been on the streets for almost 50 years, said Nick was popular among the homeless. "He wasn't a troublemaker, not violent. I had a few smokes with him, a few drinks. You don't get too close to people on the streets but I liked him."
Will has been clean since the start of the year. But over half a century he has used crack, gas, LSD, glue and alcohol. Spice, though, is the one drug that has scared him.
"I haven't taken it since last Christmas because I ended up in hospital. They were cutting my clothes off and I thought that I'd been kidnapped by aliens. I couldn't move my arm and shoulder. I thought I'd had a stroke.
"The hallucinations are terrible. You are gone in two to three minutes. You are incapable of looking after yourself. You could be robbed or beaten up and you couldn't put up any sort of resistance."
Isobel McKenna, lead manager at theThames Reach hostel where Nick lived,says her clients report mixed experiences with spice, a herbal product sprayed with molecules that have an affinity to cannabis.
"Some say it helps them with anxiety while others go, 'Oh my God I'm never going to use it again'. More and more, though, I'm hearing the latter. The question is: why are people choosing to do something that leaves them losing complete control of their bodies?"
The answer appears to be down to the way that spice is sustaining a symbiotic relationship between dealers and users.
"It is a fraction of what it costs people to buy heroin or crack," Aiken said. Today a small bag costs between £15 and £20 compared with about £10 before the drug was banned. "A £10 pack, if you've never taken it before – that might keep you going for a week," Will said. "You only need four or five pulls [on a spliff] and you're out of it."
Users report entering a state of oblivion – known as "gouging out" – that can last for days, enough time to get the money together for another bag by begging. "You smoke more so you can beg more so you can smoke more," says James Alexander.
Beth Winter of Thames Reach helps run two London day centres, one in Hackney and another in Camden. She said that spice was a problem only at the centre in Camden, an area popular with beggars because it is a tourist trap – suggesting that local economic conditions are a factor in determining the drug's prevalence.
This may help explain why spice, once considered a northern-England drug, appears to have migrated south – "following the money" – after it was banned.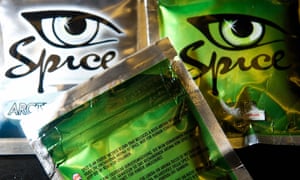 "The streets of Westminster are paved with gold for beggars," said Aiken, who urged people to think twice before giving money to people on the streets.
Aiken praised the Metropolitan police for arresting dealers – but the drugs keep coming. Will said that he had heard rumours that a spice factory had been established in Chinatown in the centre of London, ensuring a steady supply to the many homeless people who congregate around the Strand, where usage of the drug is rife.
Those working with the homeless have been left shocked by the drug's effect on them. "The impact is so unpredictable," Winter said. "People become emotional, angry and shouting. One guy was behaving so oddly we thought we were going to have to get him sectioned."
Ewa Kapica, an outreach worker at Westminster-based homelessness charity The Connection, said she had witnessed people thrashing around on the floor, experiencing vivid hallucinations and screaming that they wanted to "end it all".
"These fits are followed by crashes," Kapica said. "The person becomes unresponsive and the emergency services step in. It's terrifying."
In addition to the psychotic problems, other known side-effects of spice include vomiting, seizures, hypertension, hyperthermia, agitation, aggression and severe kidney injury.
"We have had dozens of accident and emergency callouts because of spice in the last couple of months," said Aiken, who wants the police to be given more powers to confiscate the drug from users as well as dealers.
"The cost to the public purse is getting out of control. The charities we are working with say they have never known anything like this ever. It's the ferocity of the drug – it's like nothing we've experienced before."
["source-ndtv"]