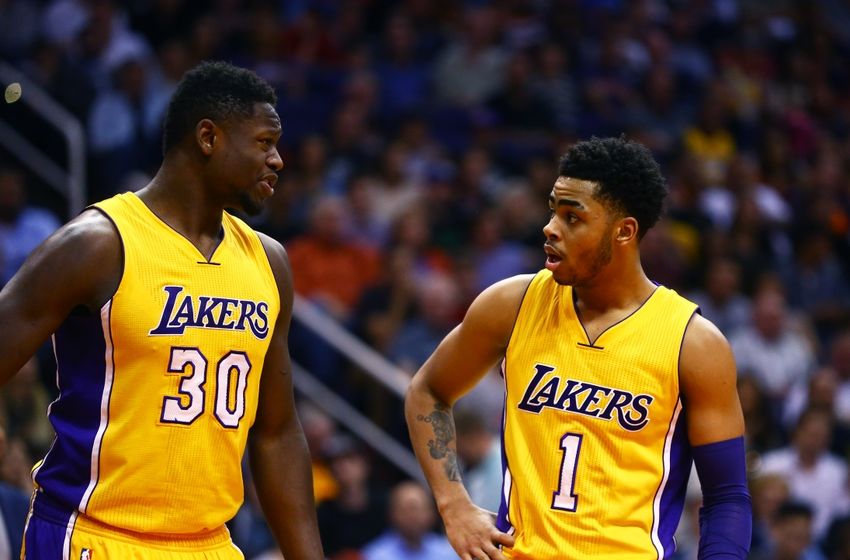 The Los Angeles Lakers are making sure they keep their young core together for years to come, and they sealed the opportunity to do so.
With Kobe Bryant gone from the Los Angeles spotlight, the new breed of purple and gold are coming to the forefront.
Earlier today, General Manager Mitch Kupchak announced the Lakers have exercised their team options for the 2017-18 season on guard D'Angelo Russell, and forwards Larry Nance Jr. and Julius Randle.
Randle was the first one of the core to get drafted when he was selected seventh overall to the Lakers back in 2014. After missing his entire rookie season, he appeared in 81 games last season averaging 11.3 points and 10.2 rebounds. He was one of only nine players in the NBA last season to average a double-double.
With two first round picks in the 2015 NBA Draft, the Lakers selected D'Angelo Russell and Larry Nance Jr.
Russell was selected second overall and finished his rookie season averaging 13.2 points and 3.3 assists. He was named All-Rookie Second Team and became the youngest player in NBA history to make 120+ three-pointers in a season.
Nance Jr. was selected 27th overall and played 63 games. He averaged 5.5 points and 5.0 rebounds per game. He was a highlight reel with his dunks and plays on defense throughout last season despite the team's overall record.
Despite being a young roster all-around, with head coach Luke Walton in charge, the Lakers can see success in the near future.
It will be a rocky start for the young core but when they put it all together, they will be a dangerous team in the Western Conference.
In the offseason, guard Jordan Clarkson signed a 4-year, $50 million deal to remain with the Lakers. Clarkson averaged 15.5 points and 4 rebounds per game.
With this group of four talented players, and adding small forward Brandon Ingram in the draft, this is a good sign if you are a Lakers fan. They can only grow together.
["Source-Livemint"]