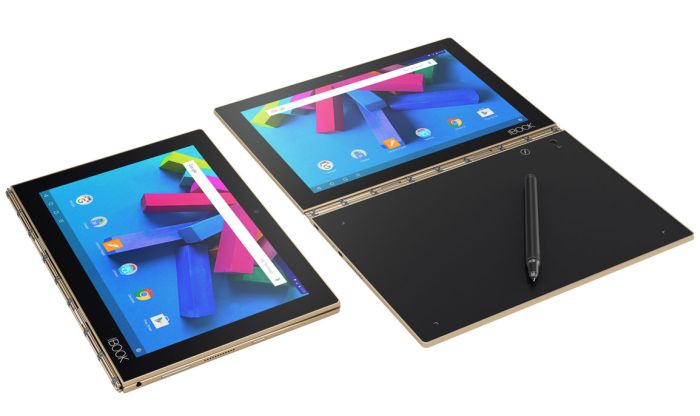 Keeping in mind the computing and mobility needs of on-the-go consumers, Lenovo has unveiled the Yoga Book — a perfect laptop-tablet bonding that redefines user experience.
At Rs 49,990, Yoga Book hits the sweet spot between content creation and consumption, resulting in a seamless blend of creativity, productivity, mobility and entertainment through a suite of new hardware and software features.
The features include instant halo keyboard, dual-use stylus that writes both on paper and screen, and productivity-driven Book UI.
Under the hood, Yoga Book packs an Intel Atom X5 quad-core processor, 4GB of memory, 64GB ROM and runs on Windows 10 Pro operating system.
Here is what works for the device.
Yoga Book has stunning looks and will surely get noticed whether you carry it in office or keep it in the living room.
Touted as world's thinnest 2-in-1 and weighing just 690 grams, you can carry the device just like a smartphone.
As with other Yoga products, it has the distinctive watchband-style hinge that folds 360 degrees and offers a smooth transition between four modes — browse, watch, create and type.
The halo keyboard — which is a full touchscreen, back-lit keyboard weaving software and hardware into one fluid interface — is the main feature and will immediately attract attention.
Made with glass, the touchscreen is meticulously designed to give a rough, matte feel and finish, along with anti-glare coating to ensure the best touch-type experience.
The keyboard lacks physical keys, showing up a solid white outline on Yoga Book's second panel only when it is required.
The halo keyboard constantly "learns about and adapts to" the typing habits of its user, with built-in prediction and artificial learning software.
The 10.1-inch, full-HD IPS display produces vibrant images and has a good colour gamut. Yoga Book also comes with a stylus but it does not work on the screen directly, instead it works with the pad down.
From doodles and drawings to notes, everything you create is instantly digitised and saved with the OneNote app available on Yoga Book with Windows. The "Createpad" will also serve as a canvas for users who love working with the creatives.
You actually never have to charge or replace the real-pen accessory as it does not require batteries and ink can be replaced with standard ink tips just like that of a conventional pen.
The device does not dissipate heat outside even when you run several applications at a time due to its fan-less design.
The ports are limited but that can be expected given the size. You get micro-USB, micro-HDMI and micro-SD ports. The internal storage is 64GB and you need to rely on SD cards if you want to store more data locally.
The speaker grille located at the sides produces good sound, complementing your multimedia experience.
The 8,500mAh Li-ion battery lasted for approximately 10 hours with a slew of multimedia apps and productivity tasks.
What does not work?
The dual-use stylus feature is fun to look at but unless you write regularly, you probably won't use it often.
When you type on a normal keyboard, the tactile feedback is critical as your fingertips can feel the different keys to help you locate keys.
On Yoga Book keyboard, there is no sense of location, but there is haptic vibration when you type. It is like typing on an iPad.
Conclusion: If you type occasionally and want a device for productivity work and media consumption, Yoga Book is cool as Lenovo has put more into less with this innovative product.
Published Date: January 26, 2017 6:58 PM IST
comment
["source-ndtv"]