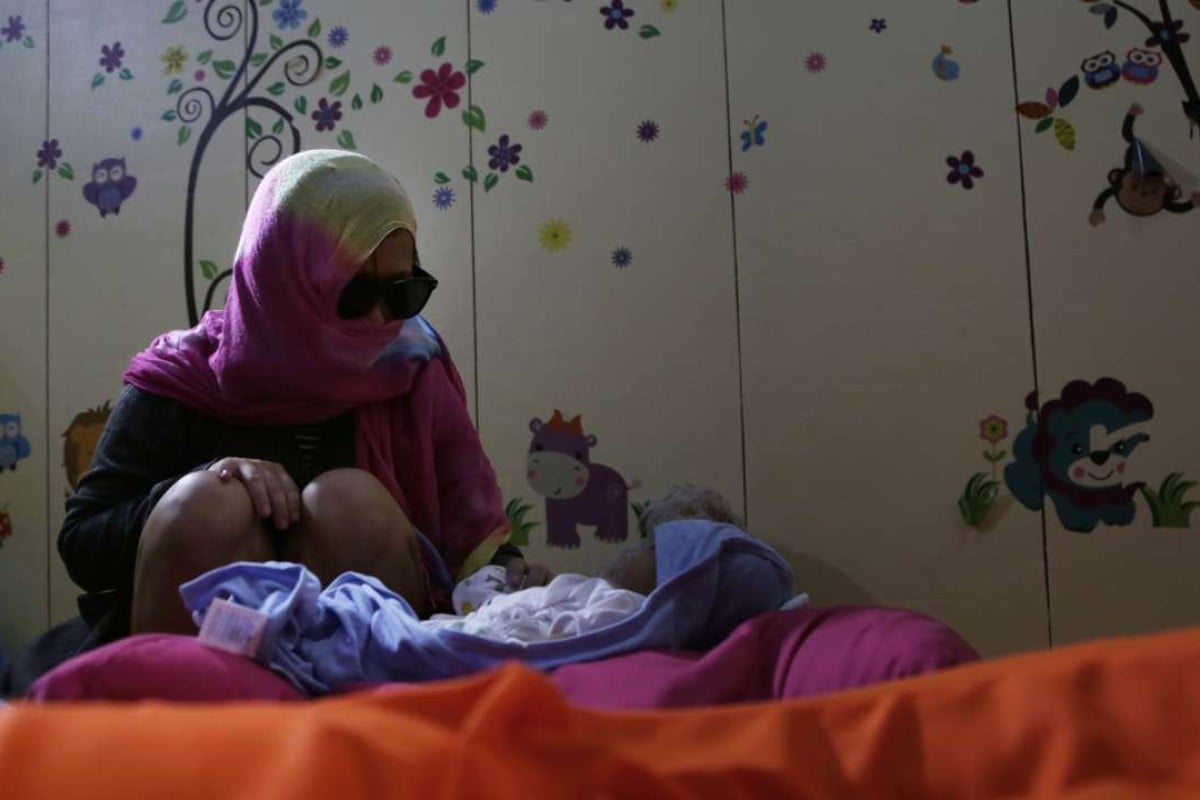 The cries of the newborn boy pierce the silence of the shack in metro Manila where he is being raised by his grieving, widowed mother.
It is just three months since the boy's father and grandfather were shot dead in police custody, a nightmare Harra Kazuo, his mother, relives daily.
On July 6, just before midnight, three uniformed policemen – one carrying a rifle – barged into their shack in Pasay City and grabbed the heavily pregnant woman's husband, Jaypee Bertes, 28.
"Where are the drugs? Just give them to us!" she recalls the furious officers yelling. "Do you want us to kill you?"
Watch: Soaring death tolls, broken families and overcrowded jail: a close-up view of Duterte's war on drugs
They dragged Jaypee to the police station along with his father, Renato Bertes, 49, despite their pleas for clemency and by the afternoon of the following day, both men were dead – Jaypee shot in the jaw, arm and abdomen, Renato in the head, chest and shoulder.
Shocking though the deaths may be they are just two of the 3,000 or so drug-related deaths that have occurred since Rodrigo Duterte was sworn in as president of the Philippines in June.
WATCH: Drug war in the Philippines
Some of the victims have been killed in police operations, which take place mainly at night and are often botched, while others are killed in vigilante actions – typically involving drive-bys assassinations in which two masked assailants on a motorcycle pull up beside their victim, point and shoot.
Often the killers leave a notice on the dead body saying "I am a drug pusher", a touch that suggests a measure of pride in the murders, as if they are performing a public service.
The Philippine National Police said in September that 1,466 "suspected drug personalities" had been killed in police operations since Duterte came to power, and just under 1,500 by vigilante groups.
Duterte always loved communists – except when he was killing them
Critics say the vigilantes have been encouraged by the uncompromising stance that helped win Duterte the presidency – he had, after all, promised on the campaign trail that "All of you who are into drugs, you sons of bitches, I will really kill you".
Since those words and Duterte's win in the May election (he polled nearly twice as many votes as his nearist rivals) the number of extra-judicial deaths has soared, as has the number of drug arrests, with at least one prison, Quezon City Jail, so overcrowded it is housing more than 10 times as many inmates as it should under United Nations standards.
Yet the tough stance appears to be a crowd-pleaser, with a survey of 1,200 adults nationwide conducted last month finding that 76 per cent were "satisfied" with Duterte's performance, 11 per cent "dissatisfied" and the rest undecided.
For Harra Kazuo, there is only pain and a sense of injustice. Her husband never got to see the face of the baby boy he had so longed for; she will be the lone parent marvelling at the child's first words, witnessing his first steps and tending to those piercing cries.
"I believe in karma. I know that some day they will pay for what they have done," Harra says of the two officers, Alipio Balo and Michael Tomas, charged with murder.
Philippine President Rodrigo Duterte enjoys 'very good' approval rating after 90 days in power
The Bertes family were no strangers to the local police. Jaypee had been arrested before, once for illegal gambling and once for being in possession of drugs. On each occasion he had been freed within hours having paid the police bribes of between 20,000 pesos (HK$3,200) and 10,000 pesos to drop the charges.
Harra admits her husband was a small-time drug dealer, but is adamant her father-in-law was not. She says Jaypee had been planning to surrender the day he was killed.
Her two daughters, ages two and six, were inside the shack when the police barged in.
"My daughters were scared. The police thought we were hiding drugs in the buttocks of my baby girl," Harra recalls. "The police stripped her off and checked whether there were drugs inside."
US lawmakers warn extrajudicial killings in Filipino President Duterte's drug war could affect aid
The officers then started punching Jaypee, while Harra, 26 and heavily pregnant, begged them to stop. The officer responded by pointing the rifle at her and asking: "Do you want me to finish you now?"
They then turned their attention to Renato who, having insisted they show him a warrant which they could not produce, was arrested for being a trouble-maker. They did not find any drugs inside the house, Harra says.
She asked to accompany her relatives to the police station, but was refused, so she cycled to the station and waited outside overnight.
By the time she was allowed to meet Jaypee and Renato in the morning both were shadows of their former selves.
"My father-in-law had bruises on his face and my husband said he was punched. My husband could hardly stand," Harra recalls, the shock still visible on her face.
Philippines' Duterte likens himself to Hitler, wants to kill millions of drug addicts
That meeting lasted just 20 minutes; within hours Jaypee and Renato were dead.
The police have previously claimed that Renato was shot when he tried to grab an officer's gun and that Jaypee then tried to grab the gun and was shot as well.
Similar scenarios are commonly offered by police as explanations for deaths in custody. At a senate hearing in August regarding extrajudicial killings, Philippine National Police Director General Ronald Dela Rosa explained the deaths of 756 "drug personalities" by saying: "If they did not resist, they would still be alive."
But such explanations are not enough to convince the Commission on Human Rights of the Philippines, which has been assisting family members of those killed in alleged extra judicial killings, including Harra, and has become alarmed at the increasing bloodbath.
In the two months following Duterte's swearing in as president, as of August 23, the commission has investigated or is still investigating 191 cases of extra judicial killings involving 250 victims.
Inside Rodrigo Duterte's brutal drug purge: how local residents work with Philippine police to compile 'hit lists'
That compares to just 531 cases involving 755 victims during the six years when Benigno Aquino was president.
"We have looked at some of the cases, and most of the respondents were the police. Some complainants alleged that the victims who were killed were not fighting back at all," the commission's chief investigator Diana de Leon says.
"These people deserve to be heard in court [to] say their defences. Let the courts judge whether they are guilty or not."
She says there is evidence some police were involved in drug sales. "We have a case in which the complainant alleges that when the police arrested the drug users, in their search, they would take away the illegal drugs and sell them."
Despite the mounting body count, there has been no direct evidence implicating the administration in the vigilante killings.
The most explosive allegations came in September when Edgar Matobato, a self-confessed hitman who claims to have worked for a death squad created by Duterte, told a nationally televised Senate committee hearing that orders from Duterte, when he was Davao city mayor, had led to some 1,000 deaths.
Duterte denied the accusations, responding that "perjury is a crime".
While hard evidence tying the vigilante killings to the administration is lacking, commission spokeswoman Jacqueline Ann de Guia thinks it is possible the president's war on drugs has inspired vigilante actions.
"We understand the position taken by a lot of people that it may not be a direct order, nor a directive coming from the president, but [for] members of the government…there should be careful consideration in utterance of statements which may be construed by other people as orders and directives," she says.
Why Duterte's leaving behind his jet ski on his trip to China
Of course, President Duterte is no ordinary president. He has called US President Barack Obama a "son of a bitch" and has told the European Union to withdraw assistance to his country. Both the United States and the EU have voiced concern about his war on drugs.
"Eventually I might, in my time, I will break up with America. I'd rather go to Russia and China," Duterte said this month.
Indeed, he visited China this week, putting aside years of hostility to cosy up to the world's second largest economy.
That unprecedented visit came after the Philippines, then led by Benigno Aquino, had made the gutsy and provocative decision to take China to the international court over their territorial dispute in the South China Sea. The court dismissed China's claims.
Since then, Duterte has done much to court China, and his no-nonsense persona has earned the backing of the Chinese community in the Philippines, according to James Dy, emeritus chairman of the Filipino-Chinese General Chamber of Commerce.
'We're neighbours and blood brothers': Xi tells Duterte as firebrand leader announces 'separation' from US
"Other politicians may give you promises … but nothing comes out of it. [Duterte] said he would solve the drug problems within six months' time and you can see that with only 100 days past, how many drug pushers, drug addicts and drug lords have been killed already?" Dy says.
Of course, not everyone agrees with Dy.
Looking back at the past few months, Harra, has one wish: "I want my baby boy to be proud of me some day in the future for having fought for justice for his father. I have to fight for justice."
["source-ndtv"]