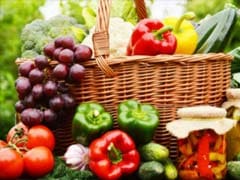 People Who Improve Their Diets Reduce Diabetes Risk
A healthy diet includes vegetables, fruits, whole grains, nuts, and legumes. (Representational)
Adopting a healthier diet may lower type 2 diabetes risk over time, while a worsening diet is often accompanied by increased risk, according to a new U.S. study.
"Although recent public health recommendations have increasingly focused on advocating overall diet quality improvement, evidence has been limited on whether changing overall diet in adulthood has a long-term preventative impact on diabetes prevention in general population," said lead author Sylvia H. Ley of the Harvard T.H. Chan School of Public Health and Brigham and Women's Hospital and Harvard Medical School in Boston.
"We provide evidence that improving diet quality in adulthood is associated with type 2 diabetes prevention, while worsening diet quality is associated increased risk for diabetes," she said by email.
The researchers analyzed data on more than 124,000 adults who did not have diabetes at the start of three large, long-term studies of lifestyle and health outcomes and who were observed for at least 20 years. Participants rated their diet quality on a healthy eating index every four years.
There were 9,361 cases of type 2 diabetes during the studies. When dietary quality scores declined by more than 10 percent between four-year surveys, diabetes risk went up by about 34 percent, the researchers found. Improving diet quality by the same amount led to a 16 percent decrease in diabetes risk.
A "healthier" diet included higher intakes of vegetables, fruits, whole grains, nuts, and legumes and lower intakes of red or processed meat, sugar-sweetened beverages and fruit juice, trans fat and sodium, as well as moderate alcohol consumption.
"Cumulative scientific evidence has supported that improving and maintaining overall quality of healthful diet is beneficial for long-term chronic disease prevention," Ley said. "Chasing after the latest short-term fix is not likely to offer sustained benefits in the long term."
Improving diet was associated with decreased diabetes risk regardless of how a person ate at the start of the study or how much excess weight they carried. Over time, losing weight explained some, but not all, of the change in diabetes risk, according to the results published in Diabetes Care.
"Improving overall diet quality as an adult regardless of where you start, whether you have poor or better initial diet quality, seems to be beneficial for diabetes prevention," Ley told Reuters Health.
"It is known that Western dietary patterns and diets with high glycemic index are associated with a greater risk of developing type 2 diabetes, whereas the opposite has been observed for prudent dietary patterns and Mediterranean diets," said Jordi Salas-Salvado of Rovira i Virgili University in Tarragona, Spain, who was not part of the new study.
"Three key points to prevent or delay the onset of type 2 diabetes are: stay lean, follow a frugal diet and include plenty and large variety of vegetables," he told Reuters Health by email.
Diet quality, as well as body weight, are important for diabetes risk, said Dr. Marc Y. Donath of University Hospital Basel in Switzerland, who also was not part of the new study.
"However it remains to be shown how important are qualitative changes in diet compared to calorie restriction," Donath told Reuters Health by email. "Based on clinical (experience), my impression is that changes in body weight are much more important."
© Thomson Reuters 2016
(This story has not been edited by NDTV staff and is auto-generated from a syndicated feed.)
["source-ndtv"]