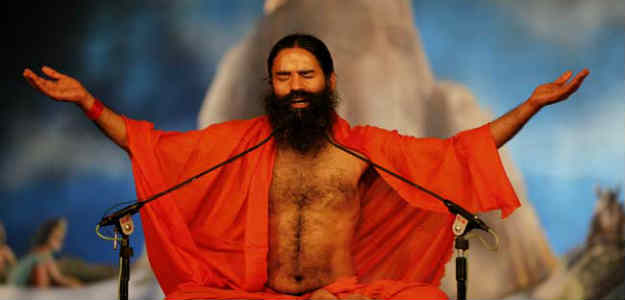 Haridwar:
Yoga guru Ramdev is now aiming to test waters in dairy and baby-care products to expand Patanjali's 'swadeshi' consumer products portfolio that is expected to clock a turnover to
Rs.
10,000 crore this fiscal.
In research and development (R&D), he's investing Rs. 150 crore in an upcoming institute near here.
"We will invest Rs. 1,000 crore to set up six processing facilities across the country. Besides, we will invest Rs. 150 crore in research and development," Ramdev told IANS.
He said the new product lines would include animal husbandry and feed, hand-woven 'khadi' (cotton) clothes and baby-care products, besides dairy products like milk, cheese and paneer.
He said the profits earned from baby-care business would be used for the betterment of the poor children. From the 'khadi' wear, the earnings will be used to strengthen 'khadi' weavers.
Patanjali Ayurved Ltd, a company co-founded by Ramdev along with his aide Acharya Bal Krishna in 2006, has sold fast moving consumer goods products worth Rs. 5,000 crore in 2015-16, a 150 per cent growth from the previous year.
"In one year we are going to take its turnover to Rs. 10,000 crore," he said.
The yoga guru said the company is coming up in a bigger way for improving and conserving indigenous cow breeds.
"We are investing Rs. 500 crore in two-three years to multiply locally-bred cows through cow embryo transplantation technique. Our aim is basically to multiply the indigenous cows that will automatically increase the milk output and strengthen the dairy industry," said Ramdev.
A cow normally gives three to five litres of milk a day, whereas the indigenous cow produces 25 to 50 litres, he said.
Patanjali, which has 15,000 offline stores and is focusing on exports and improving online trading, is also launching cattle feed and supplements this year to boost the milk production.
"Now we are setting up our facilities where the land is either purchased at market price or gifted by an individual. We don't believe in getting land on lease from any government," he said.
The consumer products giant, which has a vast market among Ramdev's spiritual followers numbering millions in the country and overseas, is also aiming to launch bio-fertilisers, bio-pesticides and indigenous seeds, besides natural medicine and natural cosmetics.
Patanjali's food park in Padartha near Haridwar spreads over 170 acres. It caters to food, cosmetic, beverage and medicine segments. This has generated employment for over 10,000 locals.
Its second mega food processing facility, spread over 600 acres, is coming up at Nagpur in Maharashtra. Each Patanjali product has 'Made in Bharat' inscription on it.
Ramdev, whose mantra for success seems to be low-pricing of products ranging from eight to 10 per cent profit margin, said setting up the country's first Vedic Education Board is also one of his top priorities.
As per the plan, Vedic Education Research Institute, run by Patanjali Yogapeeth, aims to allow its affiliated schools to offer a blend of the traditional 'gurukul' education along with modern syllabus.
"But there are too many hurdles to get clearances from the central government for the Vedic board approval," he said.
The success of Ramdev, the face of the company, has also attracted global attention.
Barack Obama's Kenyan relative and entrepreneur Jerry Okoko of Babford & Company, Inc. of Pittsburgh recently visited his food and herbal parks in Padartha.
He was accompanied by David Odiwuor Okeyo, the Homa Bay County executive of agriculture, livestock and fisheries.
"Okoko is planning to set up a food processing plant in Kenya with US assistance," Patanjali spokesperson K.K. Mishra said.