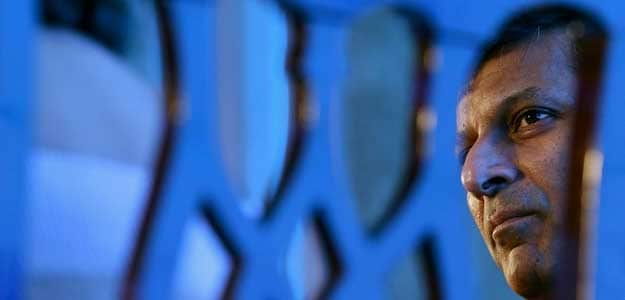 HIGHLIGHTS
Raghuram Rajan will not seek a second term as RBI governor
The surprise announcement may hit rupee, Sensex today
Dr Rajan's exit from the RBI may lead to capital outflows
The surprise announcement of Reserve Bank Governor Raghuram Rajan to not seek a second term is likely to rattle both the equity and forex markets today, analysts say. Dr Rajan said on Saturday that he will return to academia after his current three-year term expires in September, ending weeks of speculation about his future as RBI governor.
Here are 10 things to know before markets open:
1) The rupee, which closed at 67.08 per dollar on Friday, is likely to come under pressure. Traders predicted the currency to fall by 15 to 20 paise per dollar at the start of trading. "There should be a knee-jerk reaction on the rupee," said Ashtosh Raina, head of foreign exchange with HDFC Bank. "Then the market will normalise," he added.
2) Global brokerage Macquarie said Dr Rajan's exit will create "temporary" weakness in forex and equity markets. "The most notable aspect of his tenure was stemming the decline in the rupee, which has been one of the most stable emerging market currencies," the investment bank said.
3) Indian stock markets are likely to underperform global equities today, reacting to the shock departure of Dr Rajan, traders said. The Nifty futures trading on the Singapore Exchange traded 0.7 per cent lower, indication a gap down start for Sensex and Nifty. In contrast, most Asian markets traded higher today.
4) Asia-Pacific focussed brokerage CLSA also expects rupee to come under pressure, though it added that equity markets may rally on Dr Rajan's exit.
"A decision not to renew Rajan would create a lot of unhelpful noise… it would be a negative for the currency but an initial positive for the stock market since it would mean easier monetary policy," said Christopher Wood of CLSA.
5) Currency experts said the RBI would intervene to prevent excessive volatility.
6) Traders fear that Dr Rajan's exit from the RBI may lead to capital outflows from the country at a time when global investors are already nervous ahead of the key Brexit referendum in UK on Thursday.
7) Dr Rajan, a former International Monetary Fund chief economist, has been popular with foreign investors for his efforts to tackle inflation and helping to rescue India from its worst crisis in more than two decades when he took the helm in 2013.
8) Some analysts are of the view that markets are better off as the speculation around Dr Rajan's future as RBI governor has finally ended. "It is ridiculous for fear mongers to spread view of huge capital outflows on Rexit. No such thing likely. Just ride out Brexit," tweeted fund manager Sandip Sabharwal.
9) The Securities and Exchange Board of India (Sebi) and stock exchanges have beefed up their surveillance and risk management mechanism to ring-fence capital markets from any excessive volatility on Monday on account of Reserve Bank of India Governor Raghuram Rajan's surprise decision against a second term.
10) Analysts said the government should move quickly to name a successor to Dr Rajan. "The choice of successor must be based on finding a leader that will continue the new monetary project, targeting lower inflation," said the head of portfolio management for emerging Asia at PIMCO, Luke Spajic.
["source-ndtv"]