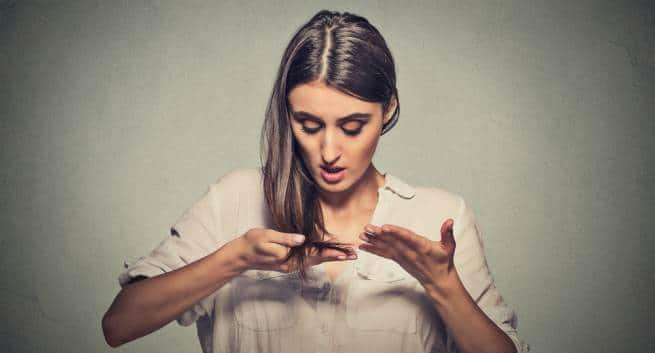 Androgenetic alopecia is the most common cause of hair loss in both men and women and is most commonly known as male or female pattern baldness. These are the different types of hair loss you should know about. Dealing with alopecia can be stressful because of how expensive anti hair loss treatments can be. Instead of that, you could try out these five herbal remedies to stop hair loss and stimulate hair re-growth to an extent. Did you know,your hairstyle can make you bald?
]Researchers have found that consuming 400 mg or four capsules of pumpkin seed oil per day for 24 weeks was effective in not only fighting against hair loss, but also stimulating hair growth [1]. Around 76 men participated in the study and after 24 weeks, a 40% increase in hair growth was observed. Here are 10 reasons to eat pumpkin seeds.
Grape seed extract
Japanese researchers have found that grape seed extract can be effective in fighting against hair loss and stimulating hair growth as it contains vitamin E, flavonoids, linoleic acid and other compounds [2]. However, the doses of grape seed capsules vary from 200 mg to 450 mg and has reported side effects like nausea, dizziness , headaches and high blood pressure. Consult your doctor before consuming grape seed capsules. These are the 9 health benefits of grapes.
Green tea
Korean researchers claim that green tea can help in the prevention and treatment of androgenetic alopecia as it contains epigallocatechin-3-gallate (EGCG)[3] because it was found effective in stimulating hair growth. You can reap the benefits by consuming green tea or massaging it into your scalp after washing your hair. Read about the 6 amazing beauty benefits of green tea.
Panax ginseng
This herb has been found to prevent hair loss and hair damage in mice following a study conducted by Korean researchers. It is known to stimulate blood supply to the scalp and hence also promote hair growth [4]. The extracts are available in powdered or capsule forms and the recommended dose is 100-200 mg per day. However, consult your doctor as it acts as a blood thinner and is known to have certain side-effects like diarrhea, vomiting, headaches and other conditions.
Saw palmetto
Studies have found that saw palmetto is effective in fighting against androgenetic alopecia and can help in stimulating hair growth in the vertex region of the scalp. In this study, 100 males with mild to moderate androgenetic alopecia participated and researchers concluded that 320 mg of saw palmetto each day for 24 months could help in fighting against alopecia [5].
Saw palmetto is a natural herb that is commonly grown in North America and has the ability to block an enzyme, 5-alpha-reductase, that leads to androgenetic alopecia. You can consume saw palmetto orally in the form of a capsule or apply the oil to the scalp regularly to see some results. This herbal remedy is also effective for female pattern baldness. These are the health benefits and side-effects of saw palmetto.
References
[1] Cho YH, Lee SY, Jeong DW, et al. Effect of Pumpkin Seed Oil on Hair Growth in Men with Androgenetic Alopecia: A Randomized, Double-Blind, Placebo-Controlled Trial. Evidence-based Complementary and Alternative Medicine : eCAM. 2014;2014:549721. doi:10.1155/2014/549721.
[2] J Invest Dermatol. 1999 Mar;112(3):310-6. Procyanidin oligomers selectively and intensively promote proliferation of mouse hair epithelial cells in vitro and activate hair follicle growth in vivo. Takahashi T(1), Kamiya T, Hasegawa A, Yokoo Y.
[3] Phytomedicine. 2007 Aug;14(7-8):551-5. Epub 2006 Nov 7. Human hair growth enhancement in vitro by green tea epigallocatechin-3-gallate(EGCG). Kwon OS(1), Han JH, Yoo HG, Chung JH, Cho KH, Eun HC, Kim KH.
[4] In Vivo. 1998 Mar-Apr;12(2):219-22. Panax ginseng prevents apoptosis in hair follicles and accelerates recovery of hair medullary cells in irradiated mice. Kim SH(1), Jeong KS, Ryu SY, Kim TH.
[5] Int J Immunopathol Pharmacol. 2012 Oct-Dec;25(4):1167-73. Comparitive effectiveness of finasteride vs Serenoa repens in male androgenetic alopecia: a two-year study.Rossi A, Mari E, Scarno M, Garelli V, Maxia C, Scali E, Iorio A, Carlesimo M.
Image Source: Shutterstock
YOU MAY ALSO LIKE
10 kitchen ingredients that help prevent hair loss, improve hair growth and make your hair shine
6 treatments for hair loss or alopecia that DON'T work!
Is your BMI beyond 25? You could be suffering from infertility, hypertension, +3 other conditions
7 things your hair says about your health
Disclaimer: TheHealthSite.com does not guarantee any specific results as a result of the procedures mentioned here and the results may vary from person to person. The topics in these pages including text, graphics, videos and other material contained on this website are for informational purposes only and not to be substituted for professional medical advice.