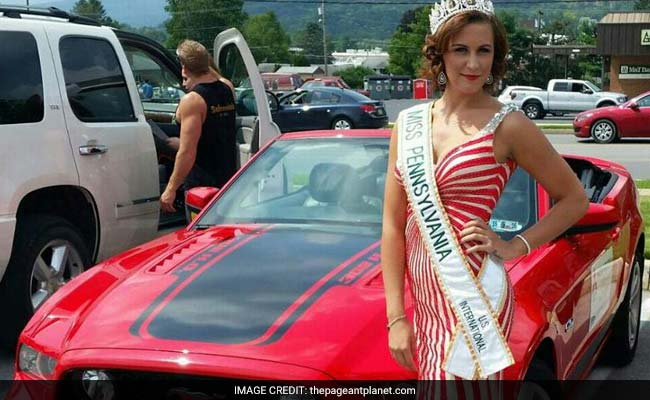 Brandi Lee Weaver-Gates does not have cancer.
The 24-year-old former beauty queen never has, nor has she ever undergone the agonizing trials of chemotherapy. She has never shivered in a hospital room, awaiting her prognosis. She has never been forced to wonder if she would live another year.
With that in mind, anyone performing a Google search for her name might be surprised to run across this 2015 article in the Centre County Gazette, which stated:
"The Centre Region has done it once again, this time uniting to help Brandi Weaver-Gates, who was diagnosed in March of 2013 with Chronic Lymphocytic Leukemia. Since being diagnosed, she has undergone a series of medical treatments."
It's not entirely the paper's fault — Weaver-Gates had fooled nearly everyone, from her classmates at Penn State to her own family members, into thinking she had cancer. In doing so, she raised $30,000 from kind people trying to help her afford treatment.
She pleaded guilty in Centre County Court to four counts of theft by deception and four counts of receiving stolen property in June, telling the judge she faked to get attention, according to the Associated Press.
On Tuesday, a judge sentenced her to two to four years in prison, WJAC reported.
It all began in March 2013, when the beauty queen began quietly telling her friends and family that she had been diagnosed with chronic lymphocytic leukemia, a disease with a 10-year survival rate of 34.8 percent and normally found in older adults, according to Healthline.
"When I was first diagnosed, I kept it to myself for a while; I didn't know how to tell my family and even though they were there through it all, it still feels like you battling it alone, because they don't understand," she told Centre Daily Times.
But over time, word slowly leaked out about her supposed diagnosis. She stoked the fires with social media, adding a roller-coaster of remissions to keep her story moving at a suspenseful clip.
Many of her social media accounts have been disabled since her imprisonment, but Buzzfeed reported she wrote the following caption on a Facebook post:
"I can't believe it's been a week already since I found out that I'm in remission again!!! From a sick/scary 4th, to celebrating remission, to having a sip for my one week mark! #kickitsbutt #KICKEDitsbutt #byebyecancer."
A particularly low point in her fictional narrative came on Saturday, April 12, 2014.
Weaver-Gates, claiming to have had a resurgence of cancer after a short remission, attended the Penn State student-run Relay for Life.
"Cancer doesn't sleep, and this is our way of celebrating the survivors, honoring those in the fight and remembering those who have passed away from cancer," Alyssa Gilley, one of the event's organizers, told the Centre Daily Times. Of course, she was not "in the fight." She was an unafflicted 21-year old student with her life ahead of her.
Because of this, Penn State senior Jasmyn Franklin and her National Society of Minorities in Hospitality team, chose Weaver-Gates as the patient for whom they were participating.
"When you're a part of something like Relay for Life, it shows you you're not alone," Weaver-Gates told the paper that day.
Her ruse lasted two years.
During that time, she would get her sister to drive her to various hospitals, sometimes as far as John Hopkins in Baltimore — three hours from Penn State's campus. Once they arrived, she would have her sister remain downstairs while she supposedly received a chemo drip.
Her sister would nervously wait for six to eight hours, as Weaver-Gates wandered around the hospital, prosecutors said.
Eventually, she shaved her head so others would think she was receiving chemo. Sometimes, she used a wheelchair to get around.
Her friends would throw fundraisers for her. Some walked door-to-door, raising money which Weaver-Gates deposited into her own bank account.
One even carried her across the finish line in a race, because Weaver-Gates so badly wanted to attend despite her "disease."
In 2015, she was crowned the 2015 Miss Pennsylvania U.S. International and received praise for becoming a beauty queen while battling cancer.
Finally, she was arrested last August, not long after her largest fundraiser. Bingo for Brandi, held on March 28, 2015, raised $14,000 alone, CNN reported.
People were growing suspicious. As People noted, her hair would grow back each time she shaved it. She never allowed anyone to accompany her for treatments.
Something didn't add up.
Police received an anonymous tip.
"The accused had told numerous people that she had been receiving treatments at various facilities, such as Geisinger, UPMC and most recently Johns Hopkins," police said.
So they asked her for a bill from John Hopkins, which she produced.
It was later found — like all of her story — to be fake. Police called all three hospitals, only to learn she had never been a patient at any of them.
No, Weaver-Gates did not have cancer. She did, however, have $30,000 and the sympathy of a grieving town.
Now she has to give back the money, and she's been stripped of her crown and sash.
But she can't repay everyone's time, their sympathies.
"Many, many people have been affected by cancer and when someone takes advantage of that to make money as fraud in a calculated and elaborate way, it is incomprehensible," said Centre County District Attorney Stacy Parks Miller. "She actually stole that time and money from giving people who were actually suffering from cancer, some of who lived near her and have since passed."
She added, "I only hope this singular incident by a selfish person will not dampen [the community's] endless capacity for helping those in need."
Unfortunately, it's far from a singular incident in the United States. In a world flooded with ways to disseminate information — much of it false — this sort of crime becomes ever easier.
Forty-year-old Oklahoma woman Jennifer Garrison faked terminal stomach cancer to cash in on the kindness of others. She received thousands of dollars in fundraising, for which she was arrested. Thirty-six-year-old Kelly Johanneson pretended to have Stage IV breast cancer and raised $4,400 on GoFundMe.
In fact, faking maladies of one sort or another are so common that there's a website tracking them, along with other fundraising scams. GoFraudMe specifically looks at fake GoFundMe campaigns. According to the site, GoFundMe raised more than $2 billion as of February 2016. It raises $4 million each day.
GoFraudMe keeps a map with a red teardrop marker over everywhere campaigns have been proven fraudulent. Zoom out just a bit, and the United States is buried in a sea of red.
Weaver-Gates was sentenced to up to fours years in prison, followed by five years probation. In addition, the judge has ordered her to repay the $30,000.
(c) 2016, The Washington Post
(This story has not been edited by NDTV staff and is auto-generated from a syndicated feed.)
["source-ndtv"]