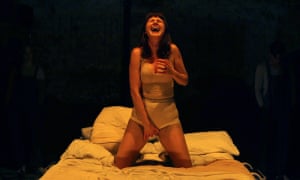 London's newest theatre, a former underground car park, opens with a transfer from another subterranean venue, the Vault. It's a quirky three-hander that suggests writer Isley Lynn could be a rising star.
Beginning with Alana's first period and quickly moving on to to teenage fumblings, this initially looks as if it's just another coming-of-age tale, albeit one written with considerable charm and a laugh-out-loud comic edge.
But there is something more interesting lurking in this brave, largely autobiographical story as it becomes clear that Alana has vaginismus, a common but rarely talked about psychosexual disorder in which the muscles spasm during penetrative sex.
The piece has an endearing unfettered honesty and it benefits enormously from a brilliantly judged, personable central performance from Lydia Larson, who ensures that Alana's sexual odyssey always keeps the attention. Even better, the play swerves unexpectedly and avoids becoming an issue piece, becoming an altogether more interesting meditation on difference and the crushing pressure to be what is considered normal in a highly sexualised culture.
The other characters – all played by Jessica Clark and Jassa Ahluwalia – are a sideshow in Alana's story and that seeps into the writing: the student scenes are a bit cringeworthy, and Lynn never fully explores the complexity of the relationship between Alana and her mother, the latter very much a stereotype. But there is plenty to enjoy, and if the Bunker continues to find and produce fledgling work of this quality, it should fly.
• At Bunker, London, until 5 November. Box office: 020-7234 0486.
["source-ndtv"]