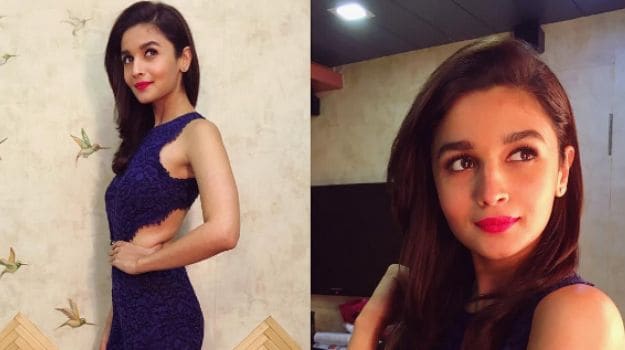 Scroll down for Alia Bhatt's diet and fitness secrets.
In Shobhaa De's words, "The Student of the Year has grown up to become the Actress of the Decade." Millions of viewers look forward to watching movies that feature Alia Bhatt. Why? Because she soars on screen with her outstanding acting skills, and manages to woo her fans off screen too. She keeps it real (even on Instagram). Mahesh Bhatt's daughter has become the darling of the industry, and makes heads turn thanks to her gorgeous figure and bubbly, carefree nature.
We all know that Alia Bhatt wasn't always as slim as she is now, and has lost oodles of weight over the last few years. But did you know that the Udta Punjab actress lost around 16 kg in three months? When Alia was 17, she weighed around 67 kilos. She underwent a mind blowing transformation when she was shortlisted for Karan Johar's Student of The Year, her debut film.
Alia Bhatt's Diet 
Alia just eats three meals per day, and doesn't believe in the concept of eating every two hours. She eats when she's hungry, and listens to her body. Her diet plan includes nutrient-dense foods such as oatmeal, acai berries, papaya and fresh salads.
A photo posted by Alia ✨⭐️ (@aliaabhatt) on Nov 10, 2015 at 2:08am PST
She usually starts her day with a cup of piping hot herbal tea or coffee without any sugar, a bowl of poha or an egg sandwich. For lunch, she typically eats roti sabzi and snacks on fruit or 1 idli with sambar if she gets hungry in the evening. For dinner, Alia has just one roti made without oil, or a bowl of rice with dal and vegetables or roasted chicken.
A photo posted by Alia ✨⭐️ (@aliaabhatt) on Sep 15, 2013 at 7:40am PDT
To stay hydrated, she sips on coconut water and healthy juices.
A photo posted by Alia ✨⭐️ (@aliaabhatt) on Jun 26, 2015 at 9:53pm PDT
Alia Bhatt "Loves to Eat"?
"Who knew a piece of malt bread with avocado, tomatoes and a poached egg would make me so happy?" wrote Alia Bhatt on her Instagram feed. She may avoid junk and oily food on the whole, but reserves one day every week to eat what she loves. According to this Bollywood celebrity, moderation is the key to a healthy lifestyle.
When she's not digging into an Acai Berry Smoothie Bowl, she enjoys cutting chai, Dilli ki chaat, rasgullas, Gujarati and Chinese food. On holiday, she fancies baked beans, grilled tomatoes, sausages and scrambled eggs for breakfast.
A photo posted by Alia ✨⭐️ (@aliaabhatt) on Jan 27, 2014 at 7:36am PST
A photo posted by Alia ✨⭐️ (@aliaabhatt) on Mar 14, 2013 at 11:04am PDT
A photo posted by Alia ✨⭐️ (@aliaabhatt) on Sep 4, 2016 at 8:45am PDT
Alia has a major sweet tooth and is a huge fan of Pooja Dhingra's Le 15 Patisserie and Chef Kelvin Cheung's delectable cakes.
A photo posted by Alia ✨⭐️ (@aliaabhatt) on Jun 17, 2016 at 8:16am PDT
A photo posted by Alia ✨⭐️ (@aliaabhatt) on Mar 15, 2015 at 7:50am PDT
Alia Bhatt's Fitness Routine
So how does the Highway actress keep a check on her weight even after relishing her mom's Christmas turkey?
Alia Bhatt has never been a fan of the gym, but now is a fitness freak. For her initial weight loss, Alia would kick start her daily workout by walking on the treadmill for 5 minutes, and then running for 10 minutes. On Day 1, the actress set out to do 3 sets of push-ups, dumbbell raises, bicep curls, lat pulldowns and tricep push down each (around 20 reps). She rested on Day 2, and did 3 sets of crunches, back extensions, bicycle crunches and reverse crunches each on Day 3 (around 15-20 reps). She rested on Day 4 and did 3 sets of squats, forward and backward lunges, dumbbell lunges each (around 20-25 reps) on Day 5.
Want to know how Alia has maintained her Shandaar bikini body? She now refers to herself as "Pilates Girl" and trains hard with Celebrity Trainer Yasmin Karachiwala. The 23-year old doesn't like repeating workouts, so Yasmin has her hitting different Pilatesmachines such as the Reformer, Cadillac, Wunda Chair, Corealign, Motor, Step Barrel, Bodhi Suspension System and The Barre in any given week. Pilates challenges her core strength, stability, shoulder strength and makes her "feel so good". Thanks to her motivating videos on Instagram with #PilatesMakesMeHappy, we all know it's her newfavourite workout.
Watch Alia's enviable walkover on the Trapeze here:
A video posted by Alia ✨⭐️ (@aliaabhatt) on Jun 13, 2016 at 8:45pm PDT
Check out Alia do one of her favourite (and one of the hardest) exercises on the Cadillac, so effortlessly:
A video posted by Alia ✨⭐️ (@aliaabhatt) on Aug 2, 2016 at 3:28am PDT
And can you believe it: Alia still refers to herself as a "work in progress"? Even when she was on the Bollywood Dream Team US Tour with Katrina Kaif, they both hopped into the pool (literally) for an Aerobics sessions before the show.
A video posted by Alia ✨⭐️ (@aliaabhatt) on Aug 19, 2016 at 6:34pm PDT

["source-ndtv"]