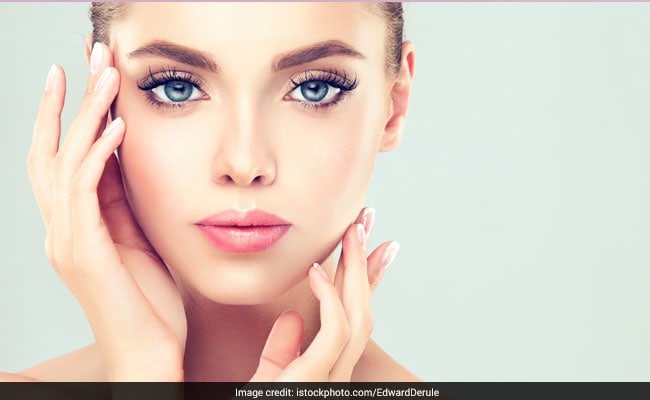 India is all set to celebrate World Yoga Day on 21st June 2018. The government declared 21st June as International Yoga Day to celebrate the importance of Yoga and a turnabout it can bring in our daily lives. Yoga is an ancient Indian discipline a part of which involves breath control, simple meditation, and the adoption of specific bodily postures. Besides your weight management, mood upliftment and overall fitness, everyday yoga could do wonders for your face too.
According to experts practicing yoga everyday could ensure a significant difference in the quality of life, which in turn, has a positive effect on a variety of aspects in one's life, beauty being one.
According to beauty expert Shahnaz Hussain, a beautiful, supple, glowing and flawless skin can be achieved by treating yourself from inside through a selection of yoga poses and exercises rather than relying on expensive cosmetics and time consuming salon treatments.
There are many asanas that could help you fight a variety of your skin woes. Regular yoga practice pranayama, and meditation aid you in reverse the signs of ageing including wrinkles, saggy skin, crow's feet, and fine lines among others.
The practice of yoga may greatly aid in helping you look more youthful by inducing  a characteristic glow and make you more refreshed says Hussain.
"I have always said that good health and beauty are two sides of the same coin. Unless you are healthy from the inside, you cannot reflect true beauty. For a flawless skin, shiny hair and a slim figure, good health must be on top of the list", said Hussain.
"In fact, I promoted the Ayurvedic principles of holistic health, with yoga as an integral part of the program. This concept of holistic beauty care was unique and caught on worldwide. I believe that yoga is very relevant to our modern lifestyle, in terms of both health and beauty. Personally, it has been a part of my life and I have experienced its numerous benefits", she added.
Here Is How Daily Yoga Could Benefit You Skin
1. It tones your muscles, increases vitality, tones the internal organs, stimulates the nerve centers, relieves stress and clears the mind.
2. A significant part of yoga has to do with breath control,  the exhalation and  inhalation during specific yoga postures could help facial muscles too. By ensuring vital oxygenation . It imparts a feeling of physical and mental exhilaration. A stress free mind and feel-good vibe is key to good skin.
3. Yoga improves blood circulation, including the circulation of blood to the skin surface. A healthy blood circulation is key for a healthy skin. It also promotes the removal of toxins through the skin. This is so important, especially in cases of skin congestion.
4. It tones the skin, improves oxygenation to the skin, imparts a beautiful glow and keeps the skin youthful and free from problems.
5. Yoga helps to promote blood circulation and oxygenation to the scalp and hair follicles. This helps to supply nutrients in the blood stream to the hair follicles which helps  promotes hair growth and keeps the scalp healthy.
Physical activity sure plays a significant role in keeping your skin supple and young. But it must be supplemented by a healthy diet. Fruits and greens contain powerful antioxidants that help protect the skin from cellular damage caused by free radicals, so it's important to get your fix daily for healthy and nourished skin.
1. Oranges: Eating oranges could help you reclaim your lost glow. And do not toss away the peel yet. The peel of the orange, actually contains more vitamin C than the orange itself. The peel contains antimicrobial and antibacterial properties so using it regularly in face packs will give you clear and brighter skin in no time.
2. Pumpkin: Pumpkins are profuse with antioxidants, vitamins (A and C) and minerals. Pumpkins are rich in zinc which is vital in the creation of new skin cells, and also helps regulate oil production, improve skin tone and reduce the appearance of open pores.
3. Tomato: Tomatoes are packed with natural vitamins and minerals, including Vitamin A, K, B1, B3, B5, B6, B7, and vitamin C. But what makes tomatoes stand out in the beauty world, is lycopene, an antioxidant which has amazing anti-ageing properties. You can apply the pulp or juice of tomatoes on your skin to activate the lycopene benefits.
4. Strawberries: Being rich in alpha-hydroxyl acid, strawberries help get rid of dead skin cells. Strawberries also boost up collagen production, minimise fine line and wrinkles due to the presence of vitamin C. Also, omega-3 fatty acids  present in strawberries help lighten the skin tone.
["Source-ndtv"]