By: Express News Service | Chandigarh | Published:February 5, 2017 5:15 am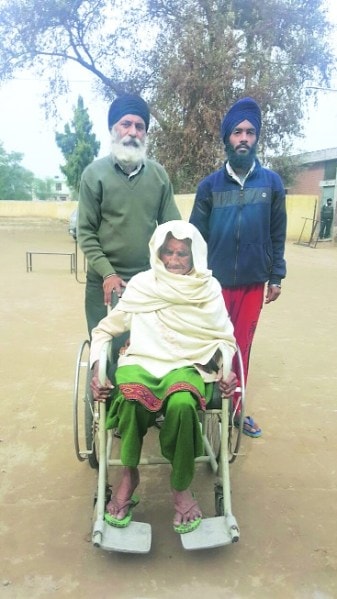 102 -year-old Ram Kaur
Age was no deterrent for these senior citizens as they turned up to cast their votes in the three constituencies of Mohali district.
Ram Kaur (102)
Accompanied by her son Surinder Singh, a landowner at Chanaula village in district Kurali, the 102-year-old Ram Kaur was quite excited to cast her vote. Her son said that there are times when she does not recognise people and is not able to speak much.
"She can walk a little. Generally during winters, we do not get her out of the house. However, today we wanted her to cast her vote," said Surinder as he took Kaur to cast her vote.
Watch: 
Assembly Elections 2017: 55% Voter Turnout Recorded In Punjab, 67 % In Goa Till 3.p.m
Sher Singh (87)
A farmer, Sher Singh recalls that he voted for the first time in 1962 and after that never missed voting in any election. The first one from his family to reach the polling booth at village Jhurjeri in Mohlai to cast his vote, he has always encouraged his children to come out to exercise their franchise. "My family will be coming later. I wanted to vote at the earliest. The process has changed a lot since the first time I voted. Machines are now being used for voting. It is more transparent now and I am happy to see these changes," he said.
Gurdev Singh (87)
An octogenarian, Gurdev Singh casted his vote at the polling station at Gian Jyoti School in Phase II, Mohali. "I came with my family to vote in the first hour. I am happy that I am going to elect a new government. Though, I am disappointed with the small lines outside the pooling booths. I hope people will come in large numbers to cast their vote."
Jaswant Singh (86)
An octogenarian, Jaswant Singh, a resident of Kurali, has been bed-ridden due to fever for the last one week, but Saturday he decided to visit the polling booth at Chakwal National Senior Secondary School, Kurali, to cast his vote. Taking the help of his grandson and daughter-in-law, Singh, 86, walked inside the school and casted his vote.
Dila Ram (85)
Despite severe pain in the knees Dila Ram, a resident of Nadha village came on a wheel chair. Speaking to the Chandigarh Newsline, Dila Ram said, "I am not educated but I think casting your vote is very important. I have a severe pain in my knees and requested my grandson to take me to the polling booth."
Karam Chand (81)
Karam Chand, 81-year-old, who was accompanied by his son, walked with a wooden stick to cast his vote. "I was born in 1939. The condition of my village has not changed much since then. Electricity supply is there but no roads. The standard of living has not improved in last 67 years. I have always used my right to vote but I am waiting for the situation to improve in the interiors of Punjab as well," he said.
["source-smallbiztrends"]