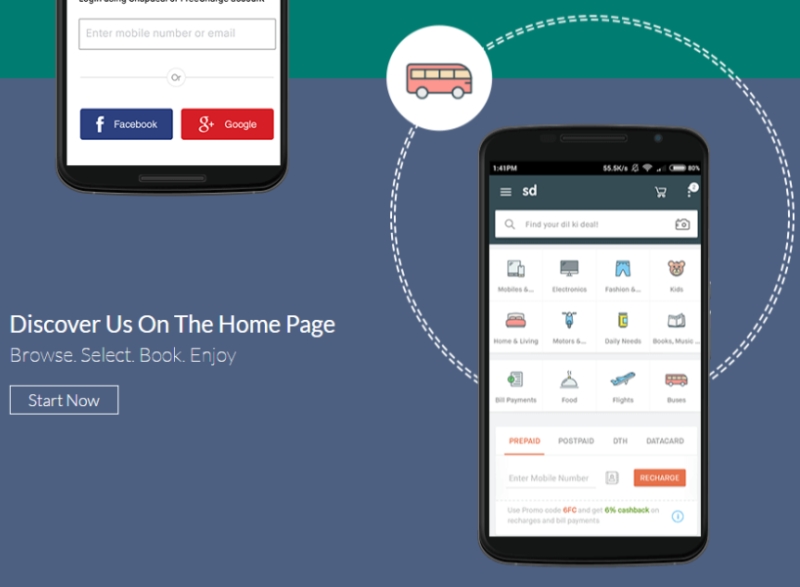 HIGHLIGHTS
Snapdeal on Monday announced its services marketplace
Previously, it already offered recharges as a service
It will add more services over time from different categories
From an e-commerce marketplace, Snapdeal is evolving into a larger online marketplace. The company announced on Monday it is entering into the "$100 billion" (roughly Rs. 671954 crore) market for online services starting with flight and bus ticket bookings.
Snapdeal says that it has partnered with Cleartrip, redBus, UrbanClap, and Zomato, and will be providing flight tickets, bus bookings, personal services, and food ordering through its platform.
Although Snapdeal is increasingly sidelined by most people analysing the e-commerce space in India, who focus on Flipkart, Amazon, and the spectre of China's Alibaba, Snapdeal remains one of the biggest online companies in India, and it has reinvented itself in the past, transforming from a Groupon-type of couponing service, into one of the first e-commerce marketplaces in India.
"Online services is an industry potentially worth $100 billion by 2020, and is poised to play a huge role in driving habit commerce in India," says Snapdeal co-founder Rohit Bansal. "The introduction of services on Snapdeal is a big leap forward in catering to nearly all the consumption needs of our customers. We are thrilled to partner with Zomato, Cleartrip, UrbanClap and redBus to bring to our users the best of choices for food, travel and personal services. We will continue to add leading service providers from other categories in our journey to offer a single point access to the widest range of services."
"We are confident that the introduction of services on Snapdeal will bring us closer to our goal of 20 million daily transacting users by 2020," he adds.
At a time when common wisdom is that companies are finding it harder to get funded, Snapdeal is trying to create a something-for-everything platform that will appeal to the maximum number of users. At the same time, Snapdeal's former Chief Product Office Anand Chandrasekaran had described a "string of pearls" strategy within the company, to create a numer of businesses that would supplement each other and help drive traffic between different platforms, such as Freecharge, Shopo, or Exclusively.
Does Snapdeal's increased focus on a wide platform mean that the string of pearls strategy wasn't working out? The announcement came soon after some major executive changes in the company;FreeCharge reshuffled its top management in May, and Chandrasekaran's exit from Snapdeal was announced the same day.
Snapdeal's new partners obviously sound pretty positive about the development. "This partnership is a win-win for both Snapdeal and Zomato," says Zomato founder and CEO Deepinder Goyal. "It will enable us to reach out and tap a larger user base of largest Indian online marketplace and will allow even more customers to order food online quickly and easily."
"Services and products come together to make the user experience complete and we are excited about the possibilities through our joint effort," adds, Varun Khaitan, co-Founder UrbanClap.
Win Star Trek merchandise and movie tickets by participating in our Star Trek Beyond contest.
["Source-Gadgets"]