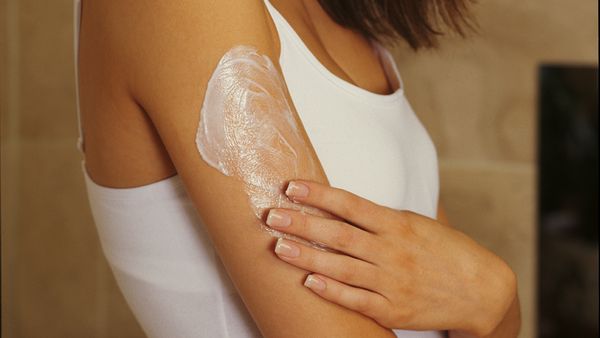 For most of us, the dewy glow of healthy skin seems an unreachable dream — usually promised in adverts for expensive potions, with unpronounceable ingredients.
But in reality, good skin doesn't have to be such a far-fetched (or expensive) concept. All it takes is identifying some of the day-to-day nasties that are derailing your efforts at nailing a healthy complexion.
Make these five tweaks and, before you know it, your skin will be glowing from your hairline to your toes.
Cheap bling is a sin
We're all guilty of indulging in a bit of cheap jewellery to keep the outfit budget to a minimum, but those nickel-based extras aren't doing your skin any favours — and it's often unsightly, itchy rashes that are the true price you pay for skimping on the real stuff.
But there are some creams out there that are formulated to help soothe the budget-bling rash. One option is to ask your pharmacist about  DermAid Soft Cream, which not only helps calm the inflammation from sleeping in a pair of five-dollar earrings, but is also packed with moisturiser to help give your skin some extra TLC.
Your phone is not your friend
Your love for your iPhone is incomparable — and that isn't going to change. But it's important to know that your hand-extension is grubby germ collector.
Even if you wash your hands throughout the day, you're probably not giving much thought to how often you clean your phone screen.
But making those important calls can often cause a spot outbreak along your cheeks and jawline. So, when you take your make-up off for the day, also do your mobile a favour and use a wet wipe to give it a cleanup.
The blow dry mistake
Hairspray is great at keeping the blow dry in place, but as anyone who has accidentally tasted a mouthful knows, it's packed full of nasty chemicals.
It's those chemicals which your skin loathes and can cause small bumpy pimples along your forehead.
Next time, instead of walking through a mist of hairspray to keep your locks in place, use your arm to cover your face.
For any itchiness or rashes brought on from your hairspray and other cosmetics, simply apply a thin layer of DermAid Soft 0.5% Cream two-to-four times daily for no more than 7 days. If the itchiness or rash persists, consult your pharmacist who may recommend using DermAid Soft 1.0% instead.
Picky pillows
Believe it or not, no two pillows are created equally. In fact, for those who really want to glow like an A-lister just back from St Barts, then there's only one option and that's a pure silk pillowcase.
Yes, it may seem a bit Maria-Carey-diva to slumber on silk, but your skin will thank you. And after all, in our whole lifetime we're snoozing for about 25 years in total, so it's a justifiable investment.
A drying dip
In the summer months, it's a sin not to head to the pool. But chlorinated swimming pools can cause super dry skin, even after a good shower.
The best way to combat this, without having to give up your beloved summer dip, is to do a double-wash with a sensitive, soap-free cleanser after a swim. Once dry, pile on a rich moisturiser. Hello baby soft skin!
["source=coach.nine.com.au"]