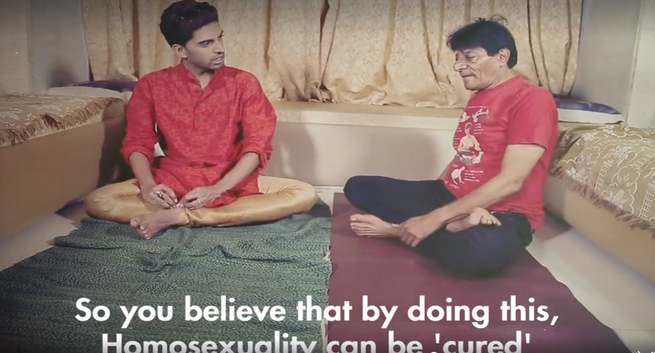 Many believe that homosexuality is abnormal and they are still cashing on 'cures' for homosexuality. If you think homosexuality can be cured, this video by 101 India will prove it all wrong.
Former Big Boss contestant Sushant Divgikar not only kept us hooked with his constant entertainment on the show but also opened up about his sexual preferences. He is now making news with this video on homosexuality. When he learned that babas and yogis claim that they could cure homosexuality, he decided to give it a try. In the video, he is seen testing the claims of yogis and babas who believe that yoga can be an alternative perspective to cure homosexuality.
What were the results of performing these asanas? Mr. Gay India is still gay and is proud to be one. The yoga poses like parvatasana and vajrasana that he demonstrates will definitely not cure homosexuality but surely have other amazing benefits.
Still not convinced? Watch the video here:
Being gay is not a sin so there is nothing wrong about being one. There are latest studies which claim that it is a disease but there is, however, no cure. Moreover, it is important to remember that no matter what your sexual orientation is, you can still perform yoga to bring peace and harmony in your life. If you think someone you know needs to cure homosexuality, you first need to heal your mind. Learn to live and let live. Did you know women are either bisexual or gay but not straight.
Video & Image Source: 101 India/Facebook
YOU MAY ALSO LIKE
Chew paan (betel leaf) for better sex
'सेक्सची इच्छा' कमी करतात या '१०' वाईट सवयी !
10 shocking facts about the vagina you probably didn't know
I spent the night with a sex worker. Will I get HIV?​
Disclaimer: TheHealthSite.com does not guarantee any specific results as a result of the procedures mentioned here and the results may vary from person to person. The topics in these pages including text, graphics, videos and other material contained on this website are for informational purposes only and not to be substituted for professional medical advice.