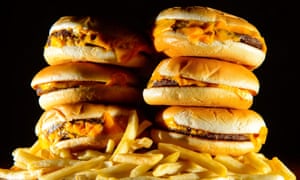 Poor diet is a factor in one in five deaths around the world, according to the most comprehensive study ever carried out on the subject.
Millions of people are eating the wrong sorts of food for good health. Eating a diet that is low in whole grains, fruit, nuts and seeds and fish oils and high in salt raises the risk of an early death, according to the huge and ongoing study Global Burden of Disease.
The study, based at the Institute of Health Metrics and Evaluation at the University of Washington, compiles data from every country in the world and makes informed estimates where there are gaps. Five papers on life expectancy and the causes and risk factors of death and ill health have been published by the Lancet medical journal.
It finds that people are living longer. Life expectancy in 2016 worldwide was 75.3 years for women and 69.8 for men. Japan has the highest life expectancy at 84 years and the Central African Republic has the lowest at just over 50. In the UK, life expectancy for a man born in 2016 is 79, and for a woman 82.9.
Diet is the second highest risk factor for early death after smoking. Other high risks are high blood glucose which can lead to diabetes, high blood pressure, high body mass index (BMI) which is a measure of obesity, and high total cholesterol. All of these can be related to eating the wrong foods, although there are also other causes.
"This is really large," Dr Christopher Murray, IHME's director, told the Guardian. "It is amongst the really big problems in the world. It is a cluster that is getting worse." While obesity gets attention, he was not sure policymakers were as focused on the area of diet and health as they needed to be. "That constellation is a really, really big challenge for health and health systems," he said.
The problem is often seen as the spread of western diets, taking over from traditional foods in the developing world. But it is not that simple, says Murray. "Take fruit. It has lots of health benefits but only very wealthy people eat a lot of fruit, with some exceptions."
Sugary drinks are harmful to health but eating a lot of red meat, the study finds, is not as big a risk to health as failing to eat whole grains.