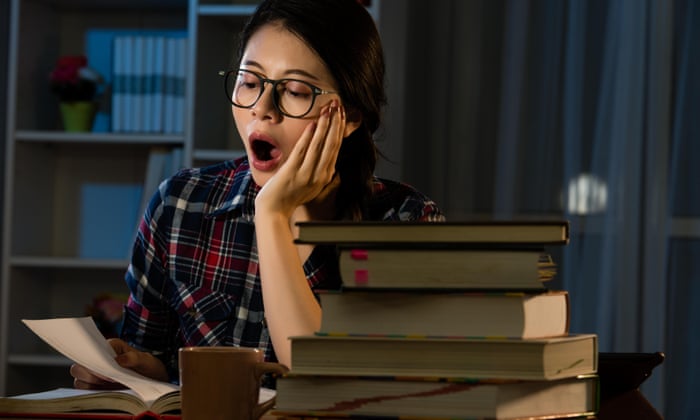 What's the best library lunch to give your brain the fuel it needs? Photograph: Alamy
It's heads-down revision time for exams and dissertations. The pressure's on, so you'll want all the help you can get to aid your memory and raise your grades (without smart drugs or cheating). Nutrition experts say that eating well can make a real difference to your revision regime – so what brain-boosting food and drink do they recommend?
How much caffeine is too much?
Coffee, green tea and energy drinks are staples of the all-night library stint. But how much caffeine is too much?
"Caffeine – particularly coffee – can have numerous benefits extending to cardiovascular health, insulin sensitivity, prevention of type 2 diabetes and acting as a potent antioxidant," says nutritional therapist Daniel O'Shaughnessy. "However, while caffeine may make you more alert, individuals can build up a tolerance meaning this is short-lived. Caffeine can also increase blood sugar and eventually lead to dips causing lack of focus and energy."
"It's also worth bearing in mind that people react differently to caffeine," says nutritional therapist Joanne Crovini. It has the potential to increase levels of the stress hormone cortisol. "Some people can drink it at midnight and go straight to sleep, whereas other people get teeth clenching and feelings of anxiety after a small amount."
Most adults can tolerate single doses of caffeine up to 200mg and a daily intake of up to 400mg without any concerns, nutrition scientist Sarah Coe says; a mug of instant coffee is around 100mg and a cup of tea is 75mg of caffeine. "Remember that energy drinks and some soft drinks contain caffeine too, and coffee from a coffee shop may be stronger than coffee made at home. As broad advice I'd say stop drinking caffeine by 2pm and have a maximum of two cups of coffee or equivalent a day, but be aware of your own reaction to it."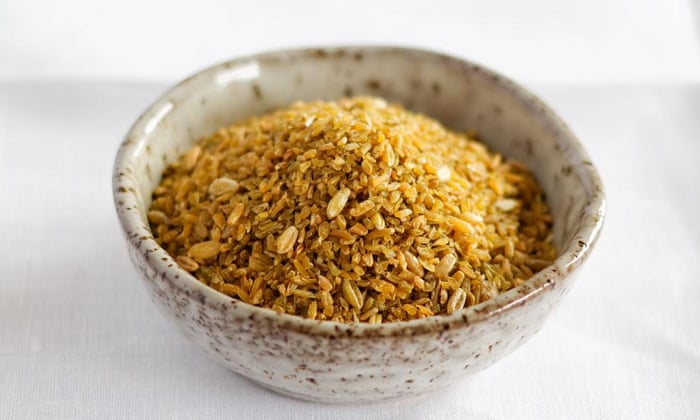 Wholegrain foods slowly release energy over the day. Photograph: Alamy
Wholegrains
Wholegrain foods will stave off hunger (advice on cooking some of them can be found here). Examples include porridge and wholemeal bread. Crovini explains that combining wholegrain with protein will help keep blood sugar levels balanced, which is essential for mood and concentration.
O'Shaughnessy agrees. Buying grains in bulk with your housemates is a great way to save money, as is avoiding the more overpriced "fad" grains, he says. "Brown rice, oats and buckwheat are good, cheap alternatives," he says, adding that the high levels of magnesium in buckwheat also helps to calm nerves.
Nuts and berries
Berries and nuts are a convenient snack that pack a nutritional punch. "Blueberries, like many dark coloured fruits and vegetables, have a high antioxidant content, which is thought to protect the brain from oxidative damage and slow age-related decline," explains Crovini. Frozen berries are usually cheap, last longer and don't lose their nutrients when frozen. Less healthy are flavoured and coated nuts, which contain added oil, salt and sugars.
Ditch the supplements
Doctors often recommend taking vitamin supplements to top up on the nutrients you need – but these can be expensive. Fortunately, they're not the only option. "Food should always come before supplements and the key to getting as many nutrients as possible is to eat as varied a diet as possible, with lots of different colours," says Crovini. "Use frozen berries and dark green vegetables like savoy cabbage, which are reasonably priced."
Coe agrees: it's better to get everything you need from food and drink: "For example, oranges not only contain vitamin C [which boosts the immune system] but also fibre and other components that you can't get packaged together in a tablet."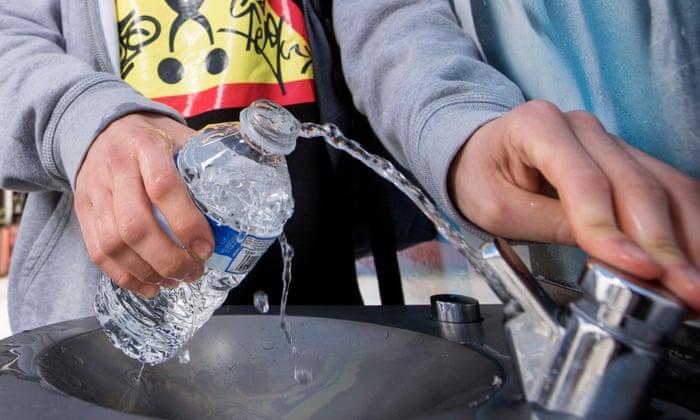 Dark chocolate
Dark chocolate has a mild effect on increasing blood flow and reducing blood pressure, due to the polyphenol content, says Crovini. "It's also a good source of magnesium, which is an essential mineral for relaxation."
O'Shaughnessy recommends choosing chocolate that's 80% or more in cacao to avoid any negative effects to teeth, skin and weight. The darker the chocolate, the less sugar in it.
Water
A recent study by the University of East London and University of Westminster found that keeping hydrated can boost attention by almost 25%. "We found that drinking even a really small amount of water (25 ml) resulted in improved performance on a test of attention," says Dr Caroline Edmonds, who co-authored the research. Drinking 300 ml improves memory performance and can improve your mood as well.
The experts' recommended library lunch
Base your lunch on starchy foods, particularly wholegrain varieties, Coe says. Sandwiches, wraps and bagels are quick and easy to prepare, or you could use leftovers from the night before to make a pasta, rice or couscous salad.
Grainy salads with canned fish and vegetables are good if you don't fancy bread. Tinned mackerel with beetroot, roasted sweet potato cubes, lots of green leaves like rocket or watercress and some pumpkin seeds, are ideal, Crovini says. Or try canned salmon with brown rice, canned chickpeas, chopped cucumber and tomato.
For sweetness, you'll want the usual healthy stuff: a small pot of natural yogurt with either an apple, some berries or a chunk of dark chocolate.
Don't skip meals, Crovini adds. Eating regularly will help keep blood sugar balanced and feed the brain with the fuel it needs.
Keep up with the latest on Guardian Students: follow us on Twitter at @GdnStudents – and become a member to receive exclusive benefits and our weekly newsletter.
["Source-theguardian"]