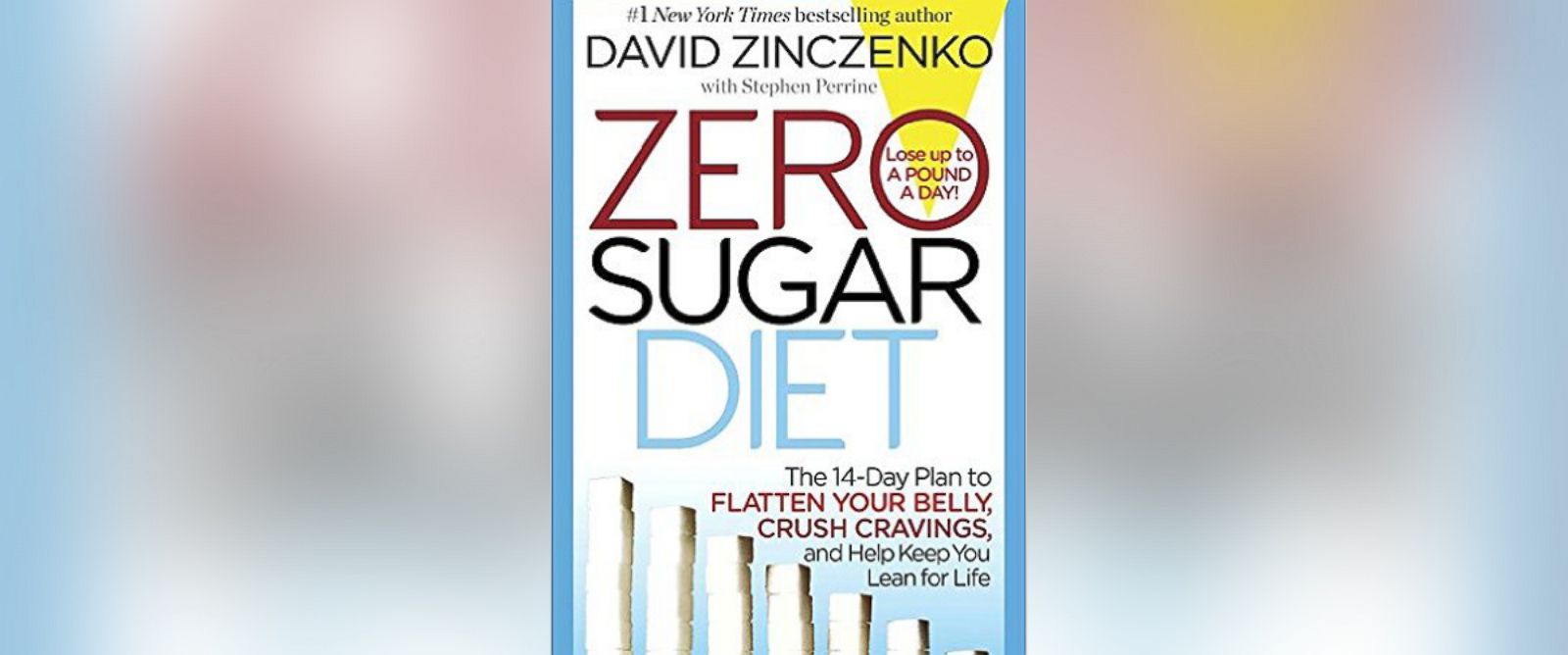 The countdown to New Year's Day is on, which means New Year's resolutions are just around the corner too. And many people's resolutions may be to drop a few pounds or improve their health.
Dave Zinczenko, an ABC News contributor on nutrition and wellness, is the author of a new book, "Zero Sugar Diet: The 14-Day Plan to Flatten Your Belly, Crush Cravings, and Help Keep You Lean For Life," that claims people can lose up to a pound a day.
4 Delicious Recipes to Help You Keep Your 2016 Weight-Loss Resolution
Eat Smart: Simple Swaps to Save Calories at Breakfast, Lunch and Dinner
Zinczenko appeared on "Good Morning America" today to share his tips for helping to reduce added sugar from in your diet. The American Heart Association recommends men consume no more than nine teaspoons (36 grams) of added sugar per day and women consume no more than six teaspoons (24 grams) of added sugar per day.
Zinczenko said consumers should pay attention to sugars added to everyday foods. To illustrate, he compared the amount of sugar in foods like yogurt to the amount of sugar in doughnuts.
Pasta Sauce: Sugar or corn syrup is a predominant ingredient in many popular brands. According to Zinczenko, a quarter-cup of one particular brand of pasta sauce contains 12 grams of sugar, the same as in one glazed doughnut.
Yogurt: Be careful of fruit on the bottom and mix-ins like granola or cereal, which now come in popular flip containers. According to Zinczenko, some brands have more than 27 grams of sugar, almost as much as in three glazed doughnuts.
Smoothie: Most smoothies start with a base of frozen yogurt or fruit juice. According to Zinczenko, a smoothie from one popular chain has 250 grams of sugar, about the same as in 25 doughnuts, according to Zinczenko.
He outlined a sample day's meals as set out in "Zero Sugar Diet."
Breakfast: Chocolate Vanilla Oatmeal:
227 calories, 6.1 grams natural sugar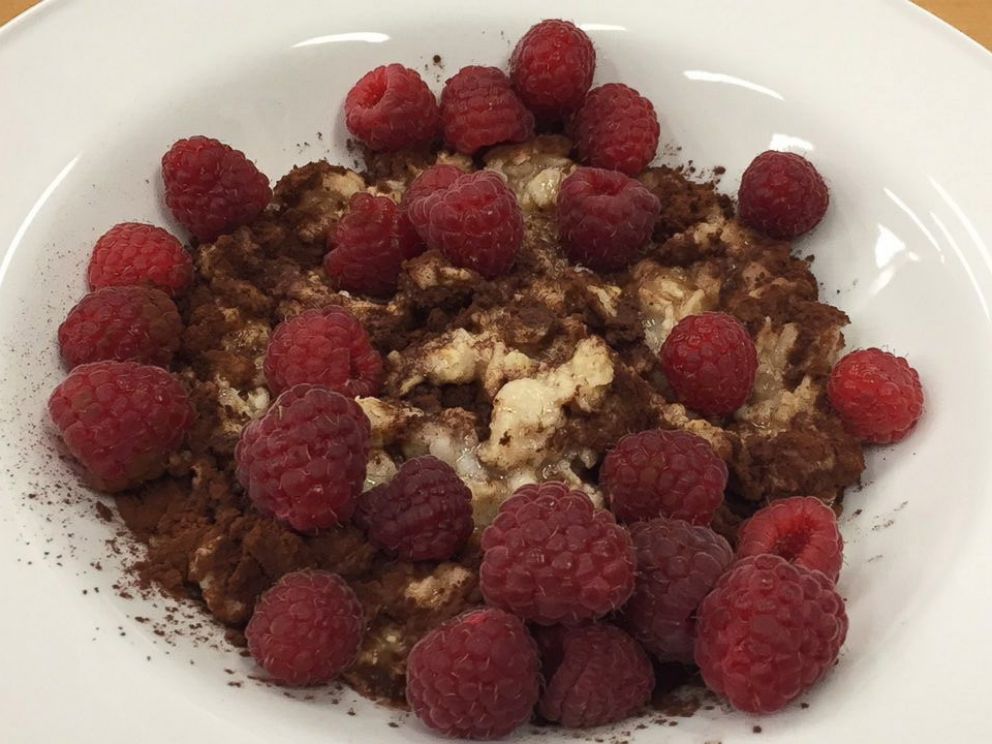 1 cup cooked oatmeal
1 tsp unsweetened cocoa powder
1 cup raspberries
1/2 tsp vanilla extract
Directions: Mix together and enjoy.
Tip: Start your day off with cacao powder in your oatmeal. It can help reduce bloating because it's anti-inflammatory, and a touch of vanilla is a heart-healthy antioxidant. This breakfast has just 6.1 grams of sugar and 12 grams of belly-filling fiber.
Lunch: Steak Salad with Kale and Spinach:
480 calories, 14 grams natural sugar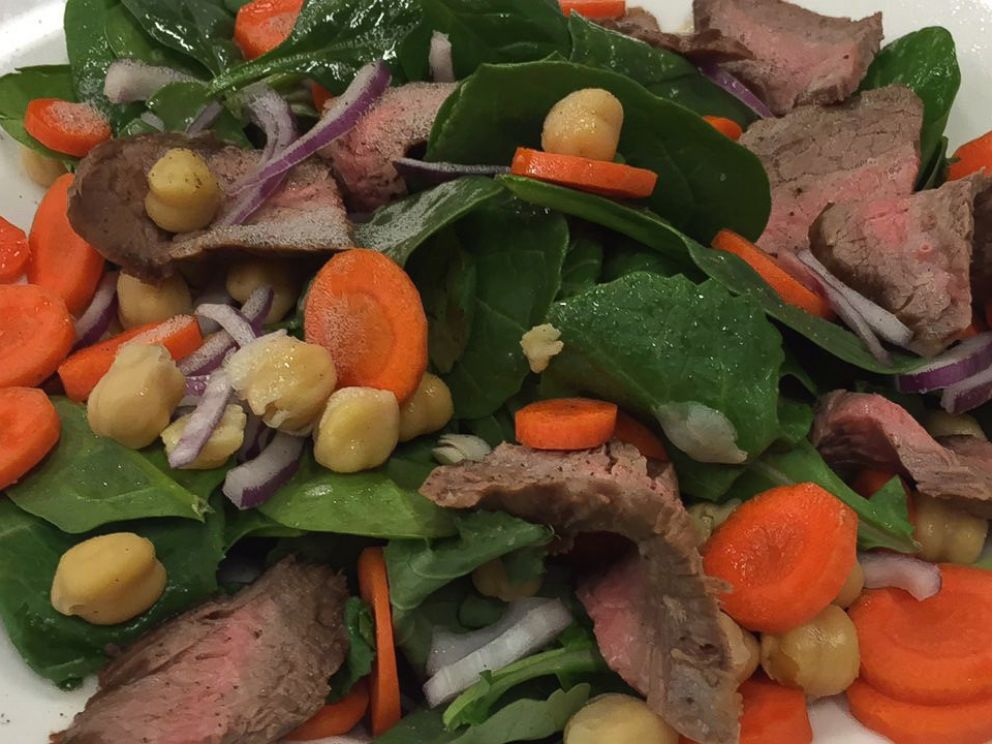 3-oz portion flank steak, grilled and cut into strips
1 cup baby kale
1 cup baby spinach
1/4 cup chopped red onion
1 cup chopped carrots
1/4 cup garbanzo beans
2 Tbsp balsamic vinegar
FOR MEN: 1/2 cup sweet peas
Directions: Combine all of the ingredients and enjoy.
Tip: This delicious salad will keep you fuller longer. It contains nearly 30 grams of protein, thanks to the veggies and savory grilled steak, and takes just minutes to assemble.
Dinner: Whole Wheat Pizza with Chicken and Asparagus:
448 calories, 4 grams natural sugar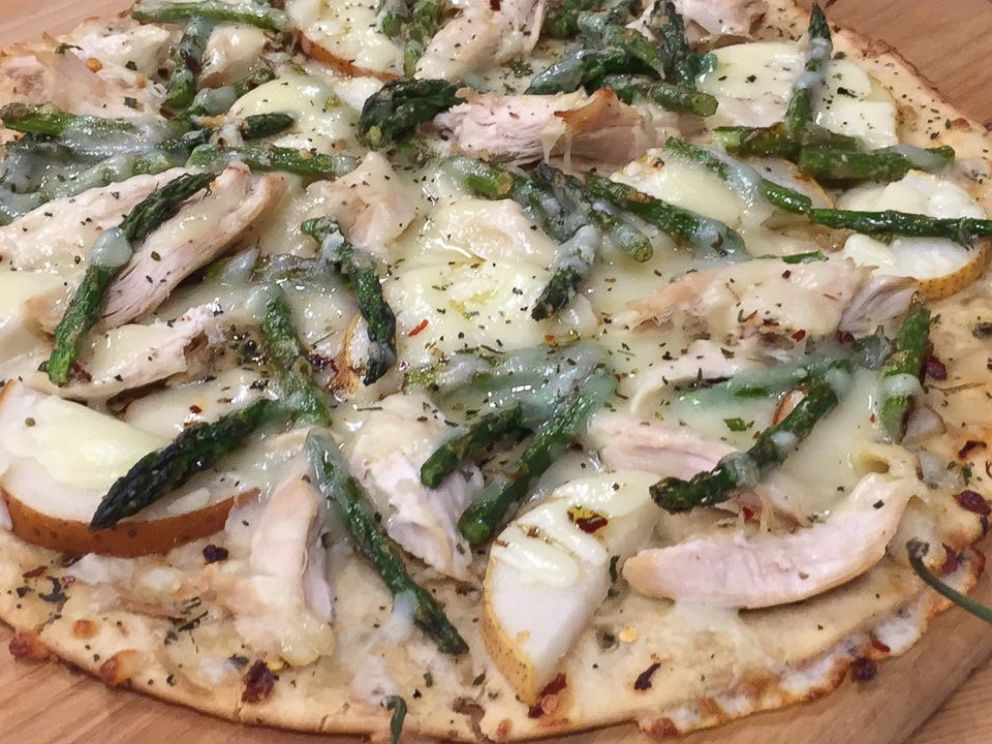 2 Tbsp extra-virgin olive oil
1 Tbsp grated Parmesan cheese
1 cup chopped asparagus
1 tsp Italian seasoning
1/4 tsp dried red pepper flakes
Ready-made whole-grain flatbread pizza crust, 12 inches
1 cup sliced pear
1/4 cup cooked chicken
1 cup part-skim shredded mozzarella cheese
Directions: Preheat the oven to 425°F. Mix 1 Tbsp olive oil with the Parmesan cheese and asparagus; arrange in a single layer on a rimmed baking sheet and roast in the oven for 10 minutes. Combine the remaining 1 Tbsp olive oil with the Italian seasoning and red pepper flakes; brush over the pizza crust. Spread the roasted asparagus, pear slices, and chicken evenly over the crust. Sprinkle the mozzarella on top. Place the pizza in the oven and bake for 7 to 10 minutes, or until the cheese is completely melted.
Tip: This pizza has a ready-made, whole-grain flatbread crust. The chicken adds protein, the pear gives natural sweetness, and you can even enjoy it with a glass (5 oz) of Gragnano wine for an additional 125 calories.
**Recipes reprinted with permission from "Zero Sugar Diet: The 14-Day Plan to Flatten Your Belly, Crush Cravings, and Help Keep You Lean For Life."
["source-ndtv"]